In late August, Hunter College senior Josephine Amorim sat in her kitchen with her parents discussing housing options for the fall. They were still waiting for news about the school's Brookdale dormitories and if they would be opening for the semester. Meanwhile, classes started in five days.
"I know myself and other people were left scrambling to find alternate housing options amidst a pandemic," she said.
Mid-summer Hunter announced that it would be conducting the fall semester almost entirely remote for the rest of 2020. This left many students to wonder if the Brookdale dorms would be opening back up regardless of classes being online. But when they didn't announce the dorms would be opening until the day before classes, many students were left to decide whether or not it was worth applying at the last minute and moving in once school was already in session.
Ultimately, English major Amorim decided Brookdale wasn't the best option for her and ended up getting a room in an apartment at the last minute. Nevertheless, she recognizes that not all students had the same opportunity as her, or the time available to move in on such short notice. "People have jobs and stuff, plus classes," she added.
In the weeks leading up to the announcement, students posted in Hunter College Facebook groups asking if anyone had heard from the dorms yet. And in the early weeks of September, after applications had opened, some students were still publicly questioning whether or not the dorms had accepted applicants and wondering if students had even moved in yet.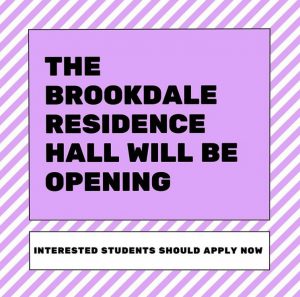 One student, 22-year-old English major Aatika Shahid, said she didn't hear back from Brookdale until about a week after having submitted her application at the end of August. And due to this delay along with the wait to find out if the dorms were opening, Shahid decided to stay living at home rather than pay full price for less than a full semester.
Others opted out of dorming after the delayed opening, finding that living at home proved to be the best and most economical option for them. "Everything is online and the rules regarding dorming made it clear I would have no social life in the dorms," said freshman Leah Rubin. "It would be silly to purchase everything I'd need in the dorms to go sit in a room by myself when I could do it from my home and still be with and help out my family."
Another student, who requested to remain anonymous since she works at Brookdale and she doesn't have the authority to speak to the press, said that while she didn't mind living at home last semester when the chaos of the pandemic hit, this academic year her mental health and personal space were more important. "Honestly, it was really hard to focus since there was basically no room there for me to do remote classes and for my mom to teach remotely as well," she said. "Obviously, since it was peak quarantine, I didn't mind but I figured if Brookdale were to open I would at least have some space to be able to focus."
Regardless, this student and Rubin are worried about what the delay meant for their peers in more unstable situations who could have relied on dorming for security and stability. 
"I have a fairly stable home life and I know others don't. They'd probably benefit from the dorms more than I would," Rubin said. "My main concern for students with unsure living arrangements is that the decision to open the dorms was made very late causing those students unnecessary anxiety and stress." And due to the delay in Brookdale's opening, some students have found themselves in unsecure living situations.
"I was really looking to dorm in order to escape my situation but given their late opening I did not have enough time to get approved on a loan and for it to disburse," said sophomore and marine biology major Angeli Reysono. She said she is now in an unstable living environment due to her inability to afford housing.
The application for the dorm lists that the price for a semester ranges between $6,200-$9,200 for a single occupancy room. And while financial aid can typically cover that, students say they are required to pay a certain amount upfront. Reysono said that after consenting to live at Brookdale the process moved quickly for her and she would have soon had to sign a contract and pay for part of the dorm costs. All the while, she would also have to make arrangements to move out of her current situation and go to school all at the same time.
Hunter administration and Brookdale residence life staff have not responded to requests to comment on these issues. Still, Reysono hopes that the school will address the situation and that students can find support during these difficult times.
"I had no choice but to remain in my situation which is now taking a toll on my education and emotional wellbeing," she said. "Many people do live out of dorming and need the support from the school in order to ensure their safety.