Update: Hunter recently updated its credit/no credit policy for the fall semester.
At the beginning of the semester, Meghan Elberti was ready for her economics class. Although she says that she is not good at math, Elberti took the class for fun and wanted to improve her personal finance skills.
But as this semester went on, the political science major says that some aspects of remote learning impacted her ability to succeed in the course. It was asynchronous, and Elberti struggled to keep track of homework assignments that were posted on a separate website from Blackboard. After learning that she would most likely get a C in the class, she opted for credit/no credit because it was best for her GPA.
"It was not at the same level that my grades usually are and like what my GPA has built itself to be," the 20-year-old said. "So I just didn't want it to hurt my overall GPA this semester."
Like Elberti, other Hunter students are considering credit/no credit grades or withdrawing from classes because they do not want some challenges of remote learning to negatively impact their GPAs and academic record.
Unlike Elberti, accounting major McCoy, who chose to go by her last name over concerns of academic repercussion, opted for credit/no credit because of issues with the professor. She said that online learning in her economics class became more challenging because he did not respond to emails in a timely manner and did not answer certain questions in class. She reached out to the economics department but did not receive much assistance.
"It's like you're trying to make room for yourself to progress," the senior said, adding that distractions at home can already make it hard to focus in class. "But if a professor isn't willing to help, I'm going to continue to fall behind."
Because of the pandemic, CUNY enacted a flexible policy that gave students 20 business days after receiving their spring semester final grades to opt for credit/no credit. Now that CUNY went back to pre-pandemic rules, students had to make the decision well ahead of receiving their final grades. With Hunter's November 25 deadline, McCoy's decision-making process became more frustrating.
"I wish they would do the same policy from last semester because it was such a relief to know that we could decide our grade," she said. "I could see my grades and know how I want to help myself and my GPA."
In advance of the due date for credit/no credit, CUNY students circulated two petitions requesting that CUNY reconsider the policy changes and create an alternative. One has received over 12,000 signatures, while the other has over 700.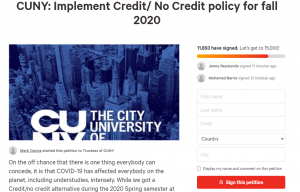 Aside from using credit/no credit, other students are withdrawing from courses.
As a student at LaGuardia Community College when learning was in-person, Yu Zhang had no trouble understanding her professors, participating in group discussions and turning in assignments on-time. When she started a completely online semester at Hunter this fall, she officially withdrew from a journalism course because it was hard to follow along with the professor during class and she could not keep up with all the assignments.
Although she used a translator for that class because English is not her first language and she was taking four other classes, Zhang says that remote learning was the primary reason that things changed.
"I think the main issue is studying online," the transfer student said, "It's not as good as in-person. It's had a big impact on my academic life."
Prior to the pandemic, CUNY students had until the third week of classes to withdraw from courses with a grade of "W" that would not affect their GPA. After temporarily extending this deadline for the spring semester and noticing a decrease in withdrawal rates and the resulting administrative work, CUNY made this extension permanent for all future semesters.
While some students are taking advantage of other grading options, not all students are doing so.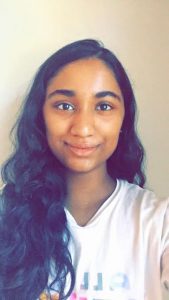 Senior Hannah Joseph worried about her law and morality class grade because she could not ask clarifying questions and interact in class discussions as easily as she would in-person. Still, the political science major did not opt for credit/no credit partially because she learned that she was doing better than she thought.
"I thought I would have to use it but then I ended up doing fine," she said, referring to the grade she received on her midterm. "So maybe it is the fear of getting a bad grade or of overthinking it but it ended up being okay."