At "Take the Mic Night," hosted by the Theta Phi Gamma Sorority Inc. and Phi Sigma Chi fraternity, singers, rappers and others showcased their talent while aiming to increase public consciousness and support for those affected by sickle cell disease.
Charging a $5 admission fee, the organizations raised about $100, which they will donate to Dance 4 Sickle Cell, a non-profit that educates people on the illness and other hemoglobin disorders.
"We donated to sickle cell to spread awareness and to shine a light on sickle cell warriors," said Ashy Shiby, philanthropic chair of the sorority's Hunter College chapter and one of the hosts of the event.
This semester, the sorority donated $100 to the Lupus Foundation of America and will donate about $200 to the American Civil Liberties Union. Although the sisters originally planned to have this event in-person, they felt it was necessary even if it was virtual.
"We definitely wanted to start a conversation," Shiby said of the November 14 event. "We wanted to educate people and encourage them to offer support."
The performers included Isaac "Izzy" Williams, Hazel, Yvette G. Santana, Blake Stenson, Dayna Hunter, Rea, Jon "Bonez" Amaro, Shazam and the DXØA Experience. After each performance, audience members filled the chat window with supportive messages.
Spoken word artist Hazel performed a piece about a person who moves on from an ex-lover and learns to love themselves.
"I'm a smith with my words, my voice is heard, I speak on my trauma, I've fallen for myself, I truly adore her," she said.
The 90-minute event was important to the sorority's long-time collaborator, the Phi Sigma Chi Fraternity. After their fraternity brother Nathaniel Dudley died from sickle cell disease-related heart failure in 2012, a few members independently founded Dance 4 Sickle Cell. One of the founders, Curtis Phillips, says that they will further send the money from this event to the Sickle Cell Thalassemia Patients Network.
Sickle cell disease is an inherited blood disorder in which normal red blood cells become sickle-cell shaped cells that die prematurely and restrict blood flow. This can lead to fatigue, damage to bodily organs and other health issues.
One of the performers, Afro Street style dancer Isaac "Izzy" Williams, who has sickle cell himself, remains positive despite the circumstances. He was grateful for the opportunity to share his craft with others and to shed light on the reality of sickle cell.
"It felt good knowing that people were there watching with the intent of learning and helping," said the 23-year-old, who danced to "Onkeya" by Nigerian Singer Burna Boy.
A gallbladder removal, a vitrectomy to maintain his eyesight and other sickle cell-related health complications do not discourage the Michael Jackson-inspired dancer.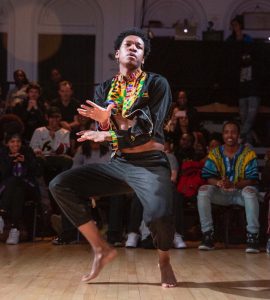 "That's helping some other kid who does have the same thing that I have and who does the same thing that I do. You can do this," he said. "And anybody who has an obstacle, you can do whatever you want. the only thing stopping you is yourself."
Shiby and her sorority are currently still deciding which organization to donate to next but plan to raise money through a raffle for self-care products.