Crystal Queer Club hosted a celebration of glitter and gender at last Friday's virtual drag event.
The club, formerly known as Lehman LGBTQ+ Alliance, provides a safe space for queer students to share their experiences, spread awareness of LGBT+ issues, and promote acceptance.
"RuPaul's Drag Race" Alum Peppermint headlined the show with a performance of her original song, "What You're Looking For."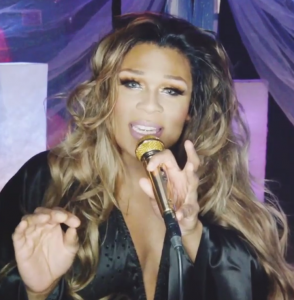 Peppermint, runner-up on season 9 of "Drag Race," was the first queen to join the TV competition as an out transgender woman. She broke ground on the show, leading the way for more trans representation.
 Most recently, Gottmik, top four finalist on season 13, made history as the first trans man contestant on the show.
Off the "Drag Race" stage, COVID-19 club closings rocketed virtual drag to prominence in the community through Digital Drag Fest and digital drag livestreams on Twitch. 
Crystal Queer Club's show approached virtual drag with a mix of live performances and pre-recorded videos introduced by queens. 
In one of the most memorable performances of the evening, Queen Sherry Poppins took the virtual stage and presented their sexy and sinister lip-sync of "Blue Velvet" by Bobby Vinton.
Poppins modeled the video after David Lynch's 1986 Neo-Noir "Blue Velvet," about the dark underbelly of Suburbia. Bathed in blue light, Poppins weaved the song with bits of dialogue from Antagonist Frank Booth, who delivers speeches between violent inhales of gas.
Poppins incorporated narrative into several of their videos, with heavy inspiration from unsolved mysteries and "Law & Order" binges. They performed a tale of infidelity and murder to Hannah Gill's Postmodern Jukebox cover of "Somebody That I Used To Know."
Queen Boyish Charm followed suit with an unhinged performance of "Blank Space" by Taylor Swift, where she sought revenge against her cheating ginger lover.
Rounding out the night of rowdy numbers, Latinx Glamour Queen Roqué delivered sultry glam with a lip-sync to "La Luz" by Kali Uchis and Jhay Cortez.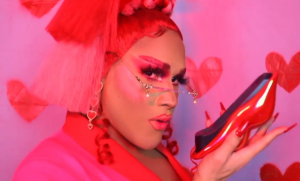 After the string of gleeful showstoppers, the evening took a more serious tone as the panel on gender identity began.
The queens shared how drag brought them to a better understanding of their gender. 
Poppins used drag to play with gender expression, ultimately leading to their self-realization that they are nonbinary.
While Peppermint medically transitioned, drag allowed her to hide the physical changes of hormones, while she was becoming more comfortable with her body.
"Drag was the only place I could go and exude my femmeness and not be chastised for it, but lauded for it," said Peppermint.
 Peppermint discussed the closeness of gender identity to the human spirit, and how drag provides a tool to subvert gender stereotypes, play with gender expression and educate others.
 "People are more open when they are being entertained, you can sneak something in," said Peppermint, "And you can teach them something."
 The message of the night, delivered by the effervescent queens: every person should do drag at least once.