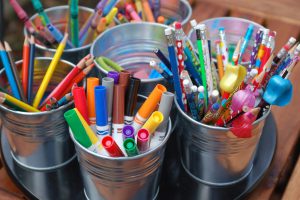 Fellow students smiled brightly during the flower pot painting workshop, as Brittany Moreno, excitedly offered to show them her potted plant, a Chinese evergreen, which she's been taking care of throughout the semester.
"It's the kind of plant that doesn't require a lot of maintenance," said Moreno. "You don't need to water it every single day; you keep it out of sunlight. And you really just let it do its own thing,"
Last week, Hunter students gathered for the "End-of-Semester Virtual Arts Festival," hosted by the Office of The Arts. This year's event centered around summer camp activities.
The festival, with nearly 20 attendees, consisted of five breakout rooms, one for each workshop. Along with bracelets, scrapbooks, and flower pots, activities also included puzzle making and leatherwork.
Art ambassador Noelle Salaun, who is in her first year at Hunter, said that the ambassadors didn't want to give up on the festival in its third year.
"This was a tradition that we had that we really didn't want to lose because we found that it did bring a lot of people together, even though they weren't art majors," said Salaun while hosting the flower painting workshop.
In the friendship bracelet workshop, hosted by art ambassador Wiktoria Jaworska, students made bracelets using materials such as embroidery floss. After wrapping three different colors of floss around their arm, students pinched and folded the materials to form the loop that would start their bracelets.
While working on their bracelets, students discussed why they decided to attend the event.
"I joined this year so that I can also be in on the fun," said a student whose display name Viky Viky reflected the carefree and relaxed nature of the event. "This is the most that I've been able to breathe because now more of my classes are disappearing."
Later in the workshop, one student said that she likes to use some of the materials required for bracelet making as a strap for her acoustic guitar.
Jazz music played quietly in the background of the scrapbooking workshop hosted by art ambassador and media studies major Theo Najar.
To make scrapbooks, students needed a hole puncher, heavyweight paper and string.
After cutting it in half, Najar recommended that everyone punch three holes into their paper; one at the top, in the middle and the bottom.
A student, with the display name of "Phil," eagerly shuffled about to find the proper materials.
During the workshops, many expressed their interest in the event as a form of relaxation after a heavy semester.
"It's a very stressful semester, and this event is very soothing because of the pandemic. I started my graduate year last year during the pandemic, said Josephine Consoli," while scrapbooking.
"And so far, joining this event really helped because it keeps my mind off what I should be doing today," continued Consoli.
Students listened intently to bootmaker Emily Boksenbaum who instructed them on how to craft a leather wallet for the leather-making workshop.
Before beginning the workshop, Bokensenbaum took some time to explain the effects of leatherwork on the environment and the differences between vegetable tanning–which she said is significantly better for the environment–and chrome tanning–which is much cheaper and easier to work with.
"I like to say to my students if you're doing a small leather working project, or you're making one pair of shoes, or one leather jacket, just go with the vegetable tanning, it might be a little more expensive, but it's in the spirit of slow fashion. And it's just a better thing for our environment," said Boksenbaum.
Overall, the festival archives its goal of bringing together Hunter students through art.
"We do things like this festival where it's just very low stakes, have fun with art, engage however you want and hang out with some other Hunter folks," said Esther Ko, assistant director of student arts engagement and arts management and leadership certificate coordinator.