Shahd Badawi didn't want to be a part of Hunter's Got Talent.
"I've never sang in front of an audience before," she said.
But that didn't stop her friends from convincing her to perform. An hour later she was in front of a crowd singing "idontwanttobeyouanymore."
With only four acts slated to perform, it was easy for the organizers to add Badawi to the line up. The MCs, USG representatives Ariana Ahmed and Sofia Rosario, announced "a last minute special guest," building the suspense of the evening.
When she finished performing the Billie Eilish number, she received a standing ovation from her friends and loud cheers and applause from the audience.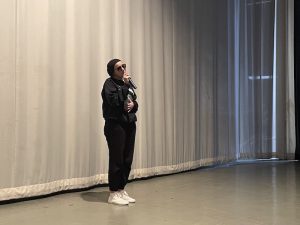 When it was time for the crowd to vote, Badawi was shocked she won the $200 grand prize.
"I didn't even want to do this," she said after the event before rushing off to celebrate. "It was a great first experience."
But before Badawi even decided she would perform, USG was dealing with some technical difficulties, when setting up the microphones for the performers. After 20 minutes the show began with MCs Ahmed and Rosario warming up the crowd cracking cheesy jokes and doing some crowdwork.
"Everyone having a good night," asked Rosario. "Sofia it is 4 p.m.," said Ahmed.
"Alright, is everyone having a good evening?" The audience laughed as they screamed back yes.
Then the event was underway with the first performer Panagiota Chasan singing "I Put a Spell on You," by Annie Lennox. As she sang the chorus the crowd clapped along to the beat, encouraging her as she was the first to perform.
Two more solosists followed her. Sophomore Kavian Williams sang India Arie's "Ready for Love." Early on she said she was a "little nervous," but anytime she stumbled the audience screamed back support, "You got this!"
Next freshman Cindy Preston sang "Secret" by Joshua Bassett. When she walked back to her seat, Ahmed said, "No secret, that was a great performance."
Then the Hawkaplleas, Hunter College's acapella group, walked up to the front of The Blackbox theater all dressed in purple and sang "The Bones" by Maren Morris. Badawi ended the talent show with her winning performance.
After the audience took 15 minutes to vote Badawi took home the grand prize, and the four other acts also took home cash prizes.
The Hawapellas came in second place and received $100. Williams took the third place prize and won $75 and the two other soloists both won $50.
Two audience members were also randomly selected to receive $25 vouchers to the beloved halal cart Terry and Yaki, which Ahmed joked about being the big draw for the event.