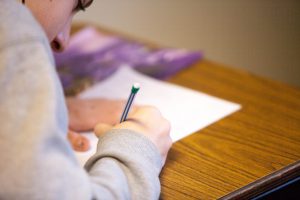 Amy Yu, a biology and sociology major, misses the intensity of working with her classmates in-person. In these virtual times, she's forced to settle for Hunter's virtual tutoring for help with her online courses.
In-person study groups make it easier "to hold each other accountable to get work done, especially if we are working in a public space and face social pressure to do work," said Yu.
Hunter typically offered several tutoring options and locations on-campus. Most of these services adapted to an online format because of the pandemic, causing some students to struggle academically despite extra help.
Yu finds that the online experience significantly impacted her grades and worries that tutoring only benefits certain areas of her coursework.
"I definitely feel like my grades aren't going to be the best. A lot of my professors are making the exams harder to prevent cheating; however, the exams are often out of the scope of what we were taught, which kind of sucks," said Yu. "The tutoring is helpful in understanding the homework," but not so much the exams, she said.
Hunter College hasn't immediately responded to requests regarding tutoring data.
Thaira Ahmed, a junior and biochemistry major, says that "in-person, there were many people available at any time to ask and receive help from." Yet now, with virtual tutoring, Ahmed notes that "oftentimes, the Skirball Center can get hectic because there are limited times available and there are large groups for one tutor."
Yu finds the mixture of personality types in tutoring groups a challenge. "It's harder for the quieter people to ask questions" in virtual sessions. She also worries about the possibility of "feeling too dumb" in tutoring.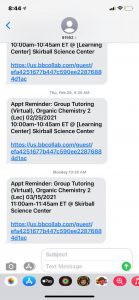 With some students frustrated by the new process, they are slowly getting less individual attention both within the classroom and outside of it.
There are more tutors in-person at the Skirball Center for "certain subjects." The current online availability often "clashes" with class times, says Ahmed. "Before, in person, there was a convenience of dropping by anytime to get help."
As a sophomore without any in-person tutoring experience at Hunter, Yu has nuanced opinions about the current online tutoring process.
"I go to Skirball for Organic Chemistry, and it's been nice," says Yu. "I usually go to the same session every week and it's group tutoring where we ask questions and learn from each other."
The larger sections are also not a problem for Yu, who likes the flexibility due to a "busy" schedule. However, she says the center can make improvements to allow students to specify what topics they need help with.
The Skirball Center, Rockowitz Writing Center, and The Dolciani Math Center did not immediately respond to a request for a comment.
In response, Yu turned to online study groups for more help, which she claims are harder to schedule than when in-person. Yu notes that she now becomes easily sidetracked and finds it difficult to focus on the material overall, whether working alone or with others.
Student suggestions for Hunter's tutoring services include a post-session survey (similar to the Dolciani Math Center) that they said would help tutors gauge how much they don't know about a particular topic. Additionally, some say implementing a pre-session survey would be helpful for discussing difficult concepts. Students also recommend individual feedback after a group session which they said would improve connections with their tutors. This type of tutoring is currently available from the Rockowitz Writing Center.