There was no doubt about it. If Bella Abzug wanted to use the White House swimming pool before committee meetings, she would.
She didn't care that, as one man told her, that "we swim nude from 8 to 9; you can come at 9 when we're done." She told them she'd be there at 8 a.m. She was and all the men were wearing their bathing suits.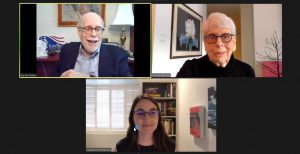 This anecdote, shared by Abzug's former press secretary and director of The Roosevelt House Public Policy Institute, Harold Holzer, exemplified the energy that Hunter alumn Abzug brought to her fight for equality and intersectionality.
During a panel on Tuesday, featuring an appearance from Abzug's daughter, Liz, speakers discussed Abzug's life as both a friend and a changemaker.
Abzug cared about the women who would come after her and wanted to give girls the opportunities she only "dreamed of as a child," growing up in the Bronx. She would become a trailblazer in her own right in her fight for equality, eventually getting elected to Congress in 1970.
"At the time, there were only 19 women in Congress. Today, that number has increased sixfold to 117," says President Raab in an introduction.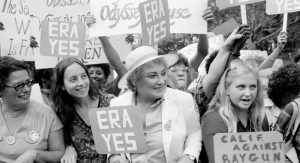 However, Abzug's impact goes far beyond her work. Host of CUNY TV's Eldridge & Co, Ronnie Eldrige, remained close friends with Abzug throughout her life, while author Leandra Ruth Zarrow, met Bella Abzug Leadership Institute Executive Director Liz Abzug nearly 15 years ago through her research.
When Eldridge's husband Larry died suddenly while Abzug campaigned, she made an effort to visit Elridge's house every day even with her hectic schedule.
Holzer says that Abzug once told him to let her know during a speech if she spoke too long by making the motion for "cut," akin to a film director.
He only had the chance to do it once.
"She said, 'How dare you say cut to me!' That was the one and only time I did that," Holzer said, laughing.
These personal anecdotes showcase Abzug as someone not only dedicated to her work but also caring, determined, funny and a good friend.
The importance and relevance of Abzug's work surrounding equality can still be seen today as the fight continues. She often got asked to speak Yiddish or Hebrew because people questioned her Jewish faith, which was a substantial part of Abzug's life as a feminist.
Abzug "dared to say the cottage prayers in the men's section of her orthodox synagogue," said President Raab.
Near the end of the panel, during the audience Q&A, panelist Zarrow politely interrupts Holzer to read from a Hunter bulletin from 1940.
"Bella Savitsky, all-around girl, plays harmonica and bugle five ways," Zarrow says, reading aloud, as Eldridge chuckles lightly in the background, remembering her friend fondly.