Hunter College's administration says the college is waiting to receive "full funding from CUNY to finish the fifth floor of the library", according to an email sent from a Hunter official to Raisa Karim, a member of the undergraduate student government.
This update comes as the area has been closed for almost a year with no official information distributed to the Hunter community. Despite several online updates about other infrastructure projects at Hunter, there is no available information about the fifth floor of the library in Hunter East.
"I don't know anything," said chief librarian, Brian Lym.
The closure of the space is an inconvenience for some students.
"The fifth floor being closed has affected me because the rest of the library is just very crowded" said Joshua Simmons, a senior who used the fifth floor before it was closed off.
"Every single time I go in there I always have to sit on the ground or look around for so long before I can find a spot to sit and do my work." he said.
"It's inconvenient for students because we have a floor culture at Hunter where you can't get a seat or a desk," said Mahsa Shabazi, a media studies major. "I think that the fifth floor being closed is a huge part of that."
As of Fall 2018,17,212 students have been enrolled at Hunter College, according to CUNY's Office of Institutional Research and Assessment. With a multitude of students and the fifth floor library being closed, students do whatever they can to find space on campus.
Aside from the lack of space issue, the fifth floor was the only library floor designated for students to have meals. Since it became unavailable, it has also disrupted some student eating habits.
"The fifth floor was a place where people could eat and now I have to go somewhere else to eat and study at the same time." said Junelle Plaisime, a Hunter College senior majoring in human biology.
While some students adhere to the library's current food and drink policy, many students disregard it because public safety does not have the staff to enforce it, according to Clay Williams, deputy chief of the library.
"They do patrol it regularly but it takes an officer a long time to walk the entire library" he said.
Along with eating, the fifth floor was also a place for students to socialize as they please. Now that it is closed, students have taken both their eating and socializing to other parts of the library, leaving other students upset.
"We get numerous complaints from students about people eating and talking next to them." said Williams. "We usually politely ask the complaining student to find an area of the library where students are studying and quiet."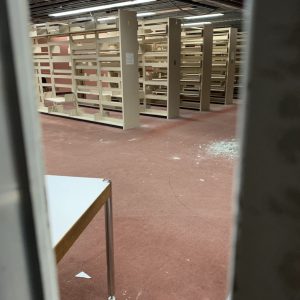 While Hunter waits for funds from CUNY, the committee will meet to discuss ideas and preferences for the fifth floor, according to the email and Karim.
"We don't want a posh library, but something we can work with," said Karim, about the suggestions she will bring to the meetings, which include more functioning outlets and lighting that would be to learning.
However, her major concern is seating arrangements.
"The most concern is just having a place for students to work and not sit on the floor." Karim said.
The renovation meetings are currently scheduled for late March and early April. After those meetings, Karim said that USG will have a town hall to inform the Hunter community on the library renovations.
CUNY did not respond for comment as yet regarding funding for the fifth floor of the library.