Health services. Undergraduate Student Government. Office of Student Activities. These are some of the places students at Hunter can go and grab a pad or tampon. The one place they can't get a menstrual product? The bathroom.
The student-run club, Mother Nature's Gift, is trying to change that. Along with destigmatizing periods and supplying menstrual products to those in need, the group is trying to get product dispensaries placed in restrooms throughout campus.
Discussions about this with CUNY's Undergraduate Student Government started before COVID-19, but progress has been slow. Too slow for club president Sanjana Ahmed.
"I really don't want to wait until I'm a senior in 2024 to finally see pads and tampons in the bathrooms," she said. The issue doesn't seem to be a top concern for USG. Ahmed said it's been "pushed to the wayside."
The Office of Communication could not make a Hunter representative available to respond to this issue.
Mother Nature's Gift is considering moving forward without CUNY's support and placing baskets of products in restrooms. The club has nearly $5,000 this semester from USG and the College Association. The project will likely be in the thousands, depending on which supplier they go with.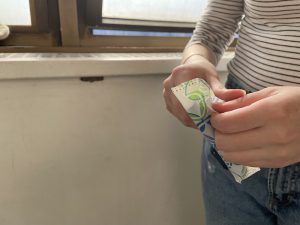 "We're targeting the most popular restrooms first and ensuring they have ample supply as opposed to some of the ones that are more difficult to locate, although the goal is to have supplies within every restroom," said Ahmed over Instagram DM.
The group is considering putting products into the restroom right outside of the library on the seventh floor, the restrooms in between Thomas Hunter Hall and the North Building, in the locker rooms, the restrooms near the sky bridges connecting the East, West and North Buildings. They would also like to put products into the library restrooms on as many floors as they are able, since not all floors have a bathroom.
They were inspired by junior Olivia Baldacci, who purchased menstrual products at her local CVS last semester, and placed them into boxes in three women's restrooms. Baldacci — now a member of the club — has tried to keep up with her efforts, having just replaced the cardboard box she placed in the West Building third floor bathroom on February 24, after discovering all of her boxes were gone.
"I was motivated to do it, because I know that there's The Purple PEERiod Project, but they only give it out on certain days, said Baldacci. "But because of the pandemic I hadn't seen them as much, and I thought it was important that the products be in the bathrooms, because it's easier to get."
The Purple PEERiod Project has been a long standing program at Hunter College, passing out products and other essentials at the North Building counter since 2018. USG's Student Welfare Commissioner, Yostina Girgis, oversees The Purple PEERiod Project with the Office of Student Activities.
One of the biggest issues is where they hand out menstrual products. On Tuesdays from noon to 1 p.m. The Purple PEERiod project passes out products, but they are trying to move it to a place where more students can see it. "I feel like the North Building is sort of a little bit hidden, and, it's not, it's not a main hub for students," said Girgis. "We are looking at possibly doing it multiple days, just expanding it every which way that we can."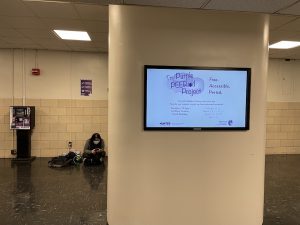 Making products available in bathrooms is something that USG and the OSA have been thinking about for a long time, but it's no easy feat. "All the behind the scenes aspects that we have to consider when putting these machines in is that there is a manpower that needs to be there to maintain them," said Girgis.
"It's definitely not a matter of 'we don't want these.' We definitely do and it's something that we were going to go ahead and do until we learned that CUNY was already going to do it with a bigger budget," said the Welfare Commissioner.
The timeline for CUNY placing menstrual products in restrooms is still unknown, but Mother Nature's Gift is "trying to get the ball rolling within this semester," said president Ahmed.
In the meantime, period product dispensaries are available at the USG and OSA offices on the second floor of Thomas Hunter Hall. "Just stop by there and grab. No questions asked," said Girgis. The dispensary is right at the entrance of the office."You don't have to talk to anybody, you can just go in and take what you need."