CUNY student podcaster and Junior Senator of student government, Hannah Kavanagh will partner with the newly launched the  #VaxUpCUNY campaign to produce a special episode on her podcast, Tea for Three, which has a following of a few hundred on instagram.
The special episode is slated to drop any day now and tackles the anxieties felt by people of color, by speaking to peers and CUNY alum who now work in the healthcare field.
Geared towards educating and encouraging students, alumni, faculty and staff to get vaccinated, the campaign targets communities of color to ease anxiety and hesitancy to the vaccine.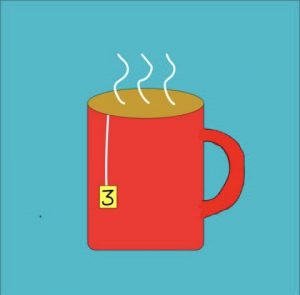 Journalism and political science double major, Kavanagh had no prior recording experience and came up with the idea for the podcast on a whim. Her podcast, which has released 29 episodes since she started it two years ago, covered a variety of topics from dating to American politics to mental health.
After quitting her part-time job at a vegan restaurant near Hunter, Kavanagh used the couple hundred bucks she had saved to buy recording equipment and subscriptions to the podcast platforms such as Soundcloud and Captivate.
Every show begins with guest introductions followed by trying a new brand of tea every episode and then describing the notes to the audience before rearing towards the episodes' topic of discussion.
One of the heads of the CUNY communications department reached out to Kavanagh through Instagram to inquire about partnering with her to produce the special episode, as they were looking for a student run podcast within the CUNY community.
A former internship supervisor recommended her to the campaign to air this special episode.
This will also be the first time an audio and video version of the podcast will be recorded; a video will air on CUNY's website.
When she was trying to figure out what direction to take the episode, a friend of hers reached out with several links claiming to prove that the vaccine wasn't safe.
"It was very jarring and shocking, but it was like a call to action because I knew now that I had to address the misinformation," she said.
Kavanagh said the healthcare system "doesn't have the best track record" when it comes to introducing new medicine to communities of color,  so it's understandable why people are worried about getting it.
In a study conducted by the New York Times, it is shown that the rate of vaccination for Black and Hispanic people is significantly less than white people, and while this is in part due to lack of resources, it is also noted that misinformation and distrust in the medical arena.
As a result of institutional racism and historical inequities in health care, vaccine hesitancy among people of color is prominent. Especially given the historic lack of diverse healthcare practitioners.
"The vaccine is the weapon that will win the war, but we will only be successful if everyone, no matter who they are or where they live, has access to science-based information so they can make an informed decision — a basic truth that has been part of New York's vaccine efforts from the very beginning." said the Samantha Fuld of the New York Department of Health in an interview with The Athenian.
Kavanagh hopes that people tuning in will feel more at ease about the vaccine in general.
"I hope people are more comfortable with the idea of getting vaccinated, and ease people's anxieties about it," she said.