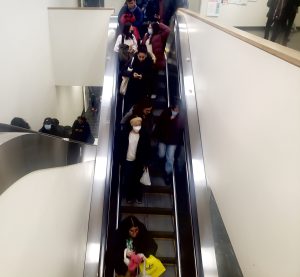 One year after CUNY lifted its mask mandate, interviews with students show an ongoing debate about the importance of face coverings, even as the COVID-19 pandemic eases.
"I feel like everyone should be able to do whatever they please," said Arham, a Hunter student who declined to give his last name. He said he stopped wearing masks when the mandate was lifted "because, honestly for me, it's hard to breathe."
Maryam Asif, a psychology and studio art double-major at Hunter College, agreed that students should be free to make their own decisions — to a point. "You have the choice to wear them, and yeah, you do, but you should wear them," the junior told The Athenian.
Hunter College and the rest of the CUNY system lifted mask mandates on March 4, 2022, and reduced random testing earlier this year from 19% of the school's population to 5%. But COVID-19 is still sickening thousands and killing several people every day in New York State. The situation has left students wavering on the policy.
Kashaf N., a Hunter student who only gave her last initial, told The Athenian that she has been wearing a mask since the pandemic started, and only stopped wearing one in class this semester. She said that seeing many people going maskless on campus has "made me a little bit more comfortable not wearing masks either." Kashaf clarified that she masks up on public transportation.
Asif expressed a nuanced position. During an interview in which she wore a mask, she said students should have the choice to wear a mask in classrooms, but that they should be mandated in crowded areas like hallways. "If we can differentiate between those two, where there's high traffic and low traffic, that would be way better."
While Asif feels safe on campus not wearing a mask, she recently had COVID-19, and "I just don't want to catch that again."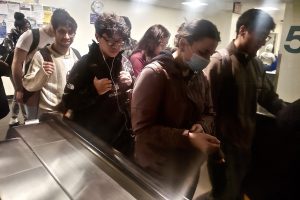 While for most people, a coronavirus infection is a week or two of body aches and coughing, some students with certain medical conditions are high-risk, and thus more likely to experience more serious symptoms. Wearing masks is especially important for them, but since the lifting of the mandate, most Hunter students are not.
For high-risk students at Hunter and other CUNY schools, this may mean that they do not attend classes in person. While this was not a problem during the 2020-2021 period when classes were entirely online, since the return to in-person instruction, Hunter has drastically reduced its online course offerings.
Sudi Shayesteh, the director of Hunter's Office of AccessABILITY, which offers assistance and accommodation to disabled students, said that while some immunocompromised students may need to continue isolating for their own safety, these adjustments only go so far.
"[It's] up to the faculty how flexible they can get," said Shayesteh, noting that professors have their own rules about how many latenesses and absences can be excused before a student risks failing a course.
Shayesteh notes that her office does make some accommodations for high-risk students, "We advocate for sick students, reach out to faculty, but the student is obligated to make up the work." If work cannot be made up, a student may have to take a leave of absence or a hiatus from school, a decision that can put their academic future in peril.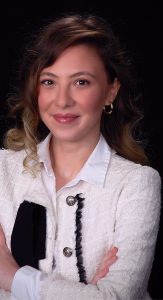 In the weeks after CUNY Chancellor Felix Matos Rodriguez instituted the new, optional masking policy on March 4, 2022, Baruch senior Hande Erkan wrote a short op-ed in her college's student newspaper, The Ticker, headlined "CUNY's mask lift is a risky move." In an interview with The Athenian, the advertising and marketing student said she stands by that statement, even one year later.
Erkan thought the decision to lift the mandate came too early. When she heard masks were made optional, "I was really scared." As someone who still uses hand sanitizer after touching subway poles and common surfaces, "I was a little bit scared because we had this huge pandemic that lasted for two-plus years, and people still get COVID every day."
While a few months ago she stopped wearing a mask everywhere she goes, she still makes sure she has one handy. "It has become this thing in my mind that kind of makes me feel safe." Though she acknowledges that masks offer no guarantee against COVID-19, "It's always a better choice to wear the mask than to not."
Erkan worries that people have learned to live with the threat of the virus. "I hope we don't forget what we've been through, what we've all been through." While she said people miss "the normal life," the pandemic "changed the way we think, it changed the way we live." She believes "the normal life" is something that's been forever left behind.
Looking to the future, Erkan is concerned that people will forget what the country has gone through with COVID-19; that they will forget all the lives changed and the lives lost.