Before the pandemic, Professor Ashley Jackson's version of normal included performing as an orchestral harpist with the New York Philharmonic, giving lectures and teaching.
Now working remotely since music staff are considered to be non-essential by CUNY, Jackson is reenvisioning her work-life balance.
Musicians, in particular, have taken the hit over the past 13 months. According to a survey conducted by Americans For The Arts, "80% of artists and creative workers experienced a decrease in creative work that generated income (61% "drastic decrease")."
Jackson, an assistant music professor at Hunter, said that the pandemic took more of a toll on her performing career than it did her creativity.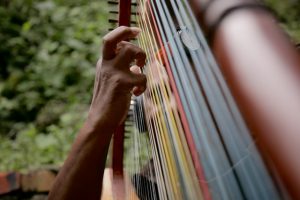 "Before the pandemic, about 90% of my performing career involved playing in ensembles (orchestras and chamber music) said Jackson. During busy fall and spring seasons, I was likely in rehearsals and giving concerts 2-3 times a month; that has essentially come to a halt."
However, as far as creativity and productivity, Jackson said the pandemic created space for her and others to dive deeper or, in other words, to get creative.
"Last December, I premiered a film that I wrote and produced called 'In Song and Spirit.' My husband and I also started a new video series for the Harlem Chamber Players called 'Harlem Walking Tour Series,'" said Jackson. "In February, I recorded five solo tracks for a new album, and have been so fortunate to appear as a guest lecturer or give masterclasses for students in Georgia, Arizona (University of Arizona), and even Toronto (Glenn Gould School of Music)."
Professor João Luiz Rezende Lopes, who often travels for performances, also stayed busy during the past 14 months by producing more musical content.
Lopes serves as the chamber music workshop director at Hunter.
"I am constantly feeling that I have to be 'creative' during this time. I am putting a lot more time into research and also writing music, which has been working well for me," said Lopes.
Lopes, head of Guitar Studies, said that the pandemic caused musicians to adapt to the current circumstances.
"During the pandemic, I am constantly afraid of losing focus and becoming too complacent with my goals of perfecting my playing and my writing. I commissioned a lot of new music from other composers so that could keep me very busy and up to date with my playing," said Lopes.
Another music faculty member who wishes to remain anonymous for personal and professional reasons also found the pandemic helpful in terms of productivity.
"Despite the seriousness of the pandemic, it was somewhat of a privilege as well to be able to learn how to navigate a course online and teach virtually. I feel I gained new skills as an instructor to be able to teach effectively online," said the faculty member. "Ultimately, the experience helped me to see ways of utilizing online teaching, not to replace but to supplement face-to-face teaching/lecturing formats."
Additionally, while continuing to further their studies during the pandemic, this faculty member finds it challenging to maintain a writing routine, as they prefer to change their environment and write in places such as a library or a cafe.
The Hunter Music Department continues to find ways to adapt to life in a pandemic and will offer a handful of in-person but mostly virtual classes next semester. In order to protect music students and staff while in-person, the department is looking into certain face masks and covers, says Malika Holder, an administrative assistant.