CUNY adjuncts and the Professional Staff Congress union continue the fight for transparency over the recent layoffs after CUNY received $251 million in funds from the Coronavirus Aid, Relief, and Economic Security Act.
"We want to see the money, we want the books open, and this is a demand we have a chance on," said former Hunter Chapter PSC Chair and professor, Tami Gold.
In response to a possible $95 million in cuts, CUNY laid off roughly 3,000 adjunct faculty. The federal government has yet to release the full cuts and instead issues a closed month to month budget for the CUNY institution. At a rally held on campus and virtually the PSC stated Hunter broke contracts with three-year adjuncts and cut compensation by two-thirds a couple of weeks before the semester started. With fewer faculty staffed, class sizes also increased posing new challenges for both professors and students while learning on a new virtual platform.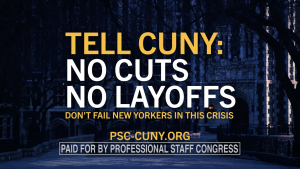 Reducing the number of adjuncts and class offerings has also increased class sizes. In one case, an online math course is currently hosting 75 students compared to the average class size of 20-29 students. Research shows that online learning is most effective with a smaller number of students in the classroom and requires a low student to teacher ratio.
Recent budget meetings with the college senate, administration and faculty result in more questions than answers for adjuncts. "Sometimes those reports have included no data and no slides, and just kind of look like a weather report," said Jennifer Gaboury, acting Hunter Chapter PSC chair. In an interview with The Athenian Gaboury explained that during cuts this information is more critical than ever. "Part of the point we're making is, those decisions need to have legitimacy and the way they have legitimacy is by sharing that information more robustly, and being more transparent." The college continues to maintain control over information, like public funds.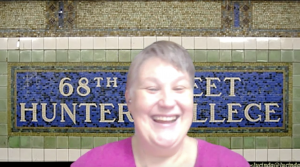 Hunter College responded to the demands of the PSC with a statement. "The federal government's ongoing failure to provide the resources necessary for states, local governments, and public universities to weather the pandemic has left CUNY with few options," said CUNY spokesperson Frank Sobrino. "The PSC should stop the infighting and join us in calling on the federal government to act immediately and deliver the funding we need."
In a formal labor negotiation with the union, the chancellor of CUNY agreed to budget transparency at the college and university level. However, PSC requests for information pertaining to the number of adjuncts let go have yet to be fulfilled. "When you make an agreement as part of a bargaining session in formal labor negotiation you're not allowed to just not do it, and so that's a serious issue," said Gaboury. CUNY has yet to release the exact number of people they have laid off this semester.
"Ultimately what we know is there are cuts," said Gaboury. "We know there have been cuts because we can feel them."
The union continues to collect data such as lost jobs and wages. This semester they found there was a large push to get full-time faculty back into the classrooms and take classes away from adjuncts. Advisors and adjuncts lost their workload credit by two-thirds just a few days before the start of the semester. "I know of several cases at Hunter where people lost classes, and those classes were what qualified them for health insurance. And they lost their health insurance during a pandemic," said Gaboury.
The administration is "romanticizing doing less with more," said Barbara Bowen, president of PSC. A lawsuit against the Chancellor of CUNY charging that CUNY has violated its obligations under the CARES Act by its layoff of thousands of part-time employees. The Act states the institution 'shall to the greatest extent practicable, continue to pay its employees and contractors during the period of any disruptions or closures related to coronavirus.'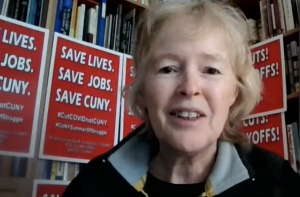 While the first step of getting a preliminary injunction was struck down, the case itself is not lost and the union continues to push forward legally. "The attack on our budget and the attempt to demobilize us is an attack on our students," said Bowen. "It's a racial justice issue, it's an economic justice issue and the PSC is fighting this." At CUNY 80% of undergraduates are POC.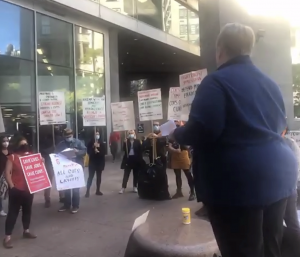 The PSC worries that these cuts could become permanent in the name of crisis by using what Gaboury calls culture tactics, using the moment of the pandemic to push through institutional changes that may have been hard to push through otherwise. One example Gaboury explained is the administration toying with the idea of keeping certain classes online rather than a classroom.
"And then the question is when money comes back do those revert or do they keep going?" she said.