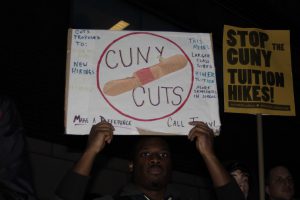 New York Governor Andrew Cuomo's Executive Budget Plan for the 2021 fiscal year unveiled a 35% cut in funding to CUNY schools. Decreases in funding, yearly increases in tuition and fees, student protests and understaffing have led some students and faculty at Hunter College to propose their own bill: the New Deal for CUNY.
The plan, spearheaded by the CUNY Rising Alliance, calls on the Board of Trustees to restore free tuition and increase the operating budget by $1.47 billion over the course of five years.
The Alliance, composed of students, senators, teachers and more was formed in 2016. Over the past five years, the coalition has struck down a proposed $500-million cut in state funding for CUNY and work to outline and advocate for change.
The bill is sponsored in both the Senate and the Assembly and is backed by numerous policymakers.
"I introduced this bill because our students in New York State deserve to receive a first class education regardless of their economic income," said a representative from New York Senator Andrew Gounardes' office in an email. "Families should not need to sacrifice money going towards heat, water or food when trying to budget in education for their children."
He emphasized that the $1.47 billion budget increase is "instrumental" in "helping low-income New Yorkers advance into the middle class," and in creating a thriving economy. "If there is one thing we should not be cutting the funding for during this time, it is education," said Gounardes' representative.
The governor and the CUNY Board of Trustees have been criticized in the past for underfunding schools and overcharging students by the Professional Staff Congress at CUNY, the union that represents over 30,000 faculty and staff.
Last year, the board voted in favor of continuing the $200 yearly tuition hike as well as implementing a $120-per-year health and wellness fee despite protests from students since 2019. The purpose of the fee is not explicitly explained in Hunter's budget plan.
The trustees comprises 10 members appointed by Cuomo, five members appointed by Mayor Bill de Blasio and a single vote from the students at Hunter College.
PSC President Barbara Bowen publicly supports the New Deal and said that Cuomo's new budget would cut CUNY by $42 million. Even the governor's "best case scenario would leave CUNY starved of funds," said Bowen in the PSC's testimony on the 2022 fiscal year.
The New Deal for CUNY bill aims to establish minimum staff-to-student ratios for counselors, academic advisors and full-time faculty over the course of five years.Last July, CUNY let go of nearly 3,000 adjunct professors and part-time staff and in turn was sued by the union representing them.
"…tuition prices are going up even though we aren't getting the education we asked for."
CUNY announced that the austerity cuts were due to economic fallout from the coronavirus pandemic and were necessary to ensure that courses were offered in the Fall 2020 semester. President Bowen argued that CUNY should have used a portion of the $250 million in CARES Act Funds they received last year, citing the law's provision to keep employees on payroll.
The increase in operating funds would help to ensure job security for staff, as "about 80% of CUNY's costs relate to personnel," according to CUNY Senior Vice Chancellor Matthew Sapienza in a testimony to the Committee on Service and Labor and the Committee on Higher Education.
To accommodate for the staff cuts, Hunter College increased virtual class sizes and cut class options. On top of a higher workload without extra compensation for professors, this means less one-on-one attention to students at a time when students feel that it should be a priority.
"Throughout my entire career at Hunter College, the past four years, I have never met with an advisor," said senior Kristina Vukaj. "I feel like throughout the entire pandemic Hunter hasn't necessarily been super accommodating when it comes to mental health which is something that's pretty important during a pandemic."
Due to the pandemic, there is an onset of what some officials believe to be a mental health crisis.
The New Deal requires CUNY to have 65 full-time faculty members for every 1,000 full-time students, one mental health counselor for every 1,000 full-time students and one academic advisor for every 600 full-time students.
"I've been doing everything on my own on Degree Works; trying to figure out what classes I need," said Vukaj. "It's kind of annoying that tuition prices are going up even though we aren't getting the education we asked for."
The New Deal, if passed, would deviate Tuition Assistance Program funds and provide public funding for free tuition in the 2022-2023 school year.
"CUNY has always been an integral part of my life," said Bronx Community College and Baruch College graduate and Assmeblymaker Karines Reyes who sponsors the bill in the assembly. "As a first-generation immigrant, CUNY was a major tool that enabled me to pursue my objectives in life from becoming a nurse to a member of the Assembly."
"We have been in dire need of an adequate funding system for CUNY for years, but in the midst of the COVID-19 pandemic, we must respond now more than ever," Reyes continued. "CUNY is a stepping stone that can propel our best forward and we should strive to make CUNY more accessible to all."
The bill is currently being weighed in the Higher Education Committee and is co-sponsored by 18 senators.