While sea levels rise, student participation declines. Even though Hunter students took to the streets for the Global Climate Strike, their participation is not reflected in the school's environmental science classes or extracurricular clubs.
Environmental programs at CUNY Hunter College are struggling to gain traction with the students. Without participation, clubs may not get chartered and the existence of a Geography and Environmental Science Department will be at risk.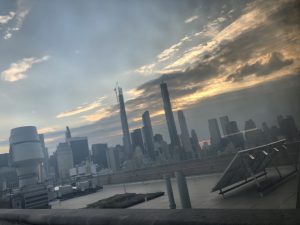 The Department of Geography and Environmental Science is experiencing a serious drop in major declarations. "It's not resonating with the students," says Peter Marcotullio, professor and graduate advisor of the Hunter Geography and Environmental Science Department. Marcotullio is also the director of the CUNY Institute for Sustainable Cities.
According to department research, only 147 students declared either geography or environmental science as their major in 2018. Of those students, 78 majored in geography and 69 in environmental science. This, up from 2017, where only 125 students declared in the department and only 53 majored in Geography. But over the past four years, the student body has been steadily decreasing. The department would ideally like the total number to be closer to 180 students.
Environmental clubs at Hunter College are also lacking in student participation. "I'm not sure if that's because were not just advertising it as much as we should be, or just people don't care," says student, Jaelyn Vera, director of the Hunter Sustainability Project.
School officials say they are actively trying to spread awareness of these environmental programs on campus, "We want to promote the environment," says Amy Jeu, lab technician in the Geography and Environmental
Science Department. She says that informing students about the state of the environment, and how the pollution affects them, may influence change in the student body.
Environmental clubs at Hunter, too, are trying to promote the environment, by spreading awareness through educational meetings and school events. "We just talk about how to be more sustainable," says Vera.
Jeu says that the department is really trying to "build a community." The administrators are conducting interviews with CUNY students to gain insight on why many are not declaring the major. "We are trying to figure out, why, people are not interested," says Marcotullio.
Through 100-level courses, the faculty wants to spread awareness and provide quality information, to inspire the students to declare the major. Jeu says, "We want to get students interested in why learning about the environment is important."
The department maintains visibility throughout the year at school events. During Major Day, October 16, they will have their own table. Students of HSP hold events, such as the Eco Fair, on September 25 and Hunter Goes Green Week, April 29 to May 3.
Vera says that the Hunter Sustainability Project's outreach needs to be updated, through new advertising posters in Hunter hallways, to gain student attraction. Vera says, "Every year we try to make new, updated posters, because it's changing, climate is changing, so some posters might just be outdated and we need to just refresh it."
Jeu and Vera both say that advertisement throughout the Hunter campus is very important in gaining traction to environmental organizations. "We need to really brand by taking advantage of the digital monitors, also setting up a table on the third floor, that's a way to create visibility," says Jeu.
Vera says that the Geography Club is also trying to rebrand and rebuild. She says, "They struggled to get someone like a secretary on their e-board because, everyone was saying, I just don't have the time." If a club doesn't have an e-board or enough students, the group will not get chartered.
Budgets for the groups are provided by The Green Initiative Fund (TGIF). Director of TGIF, Professor Makia Harper says, "We fund projects at Hunter, for students." These projects include, the Green Space Survey, Energetic – a board game studying different types of energy – and a recycling app. The organization has been vital in keeping up with Hunter College's environmental efforts during the decline in student interest. Vera says, "Without TGIF, we won't have the funds to make Hunter green." But for money to make a difference at Hunter, it needs the mind of a student.
Without student interest, resources emitted from the Hunter campus may become more toxic, without proper environmental care. Vera informs that TGIF offers students the opportunity to propose their ideas, of how to make Hunter a greener campus, to the group for funding. If interested, a student can contact Harper or TGIF through the Hunter website, even if they aren't in HSP.
Harper works with another organization, The CUNY Institute for Sustainable Cities. The group is trying to help resurrect student interest for Hunter College's environmental studies programs. Marcotullio says, "Right now we are trying to rethink the institute." Interviews help the institute understand what people know about the state of the environment. "We interview people of climate change, sea level rise and how fossil fuels affect that," says Jeu. The department wishes to help students understand, "What impact does it have on you personally?" says Jeu.
While the department is actively working on student outreach, the Hunter Sustainability Project has been struggling to do so. When speaking with Vera, she explains that HSP has not received the room assignment for their weekly meetings. Therefore, meetings are canceled until the administration assigns a room. "It's hard at Hunter. It takes a while," says Vera. Throughout the school, signs are posted informing that HSP holds a meeting Mondays at 4:00 p.m., in TH305B. Printing new signs to hang in the hallways is difficult to do without funding from the Hunter administration. HSP will actually be holding their meetings on Tuesdays, 3:00 to 4:00 p.m., upon receiving room assignment. "Anyone is welcome. We aren't judging you, like, if you're not a vegetarian," says Vera.