Feminist icons Gloria Steinem and Robin Morgan spoke at the Roosevelt House Public Policy Institute during the keynote session of Hunter's "Sylvia Plath Symposium," commemorating the poet's life and legacy on the 60th anniversary of her death and 90th anniversary of her birth year. 
The keynote kicked off with a reading of four of Plath's poems by award-winning actress, Kathleen Chalfant. They included "Morning Song," "The Applicant," "Daddy," and "Mushrooms." The event was pulled together by Plath biographer and Hunter professor Paul Alexander, and was sponsored by Hunter President Jennifer J. Raab.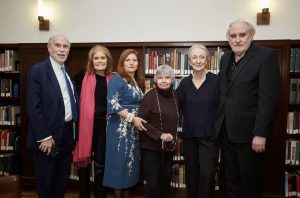 "It's been a remarkable day today," said Alexander.
Steinem and Morgan discussed their history with Plath, as well as how her poetry helped spark the women's movement. Both Plath and Steinem attended Smith College in the mid-50s, a time she recalled as being "very conservative." She remembered how Plath's talents as a writer amazed students and faculty alike, describing her as being "a world beyond" everyone else. They acknowledged that for Plath, it must've been a struggle to balance her career as a "genius" writer and domesticity, as she was married to English poet, Ted Hughes, and was the mother of two children.
Morgan said that when she first read Plath, she felt that the poet was "making visible the reality of half the human population." She noted that Hughes was "cruel" to both Plath and her children, further ailing her mental health. This in part motivated Morgan to write her first book of poems, "Monster," released in 1972. One of her poems from the collection, "Arraignment," accused Hughes of inducing Plath's suicide through his abuse and philandering. According to Morgan, it generated an "unexpected" reaction from women, who got her permission to pirate the book in places it was banned and picketed Hughes' readings to the point that he couldn't read anywhere in the Commonwealth.
"These were women with minds very much of their own," said Morgan. She said the response she received was "frightening yet magical."
Morgan credited Plath, specifically her poem, "Ariel," for helping her understand her own politics and for allowing women to rage. She recognized that by the time she came to feminism, especially following the release of "Monster," there was already a women's movement, whereas for Plath, there wasn't one for her to grasp onto yet. She followed this by reading an excerpt from one of the last 14 letters that Plath wrote to her psychiatrist and friend, Ruth Barnhouse, documenting her turbulent relationship with Hughes.
"Her voice in these letters is still ringing," said Morgan. "She was the women's movement before the women's movement."
Steinem stated that she hopes those in the audience can help introduce Plath to a wider audience and bring her writing into a "post-patriarchal" society, adding that the poet was far ahead of her time. Morgan further emphasized poetry's enduring importance to social movements, having the ability to move around "all the rhetoric and jargon" and go directly to the heart. When asked about their thoughts on the current state of women's rights during the Q&A, the two remained hopeful, citing the protests in Iran as an example.
"Hope is a form of planning," said Steinem. "If you're not hopeful you're not making a space so that it can happen."