The consumption of media in the age of doom scrolling, cancel culture and life through a screen spiked during the past year. As of January 2021, there are 319 million new internet users, according to a We Are Social global report. Last week, academics gathered to discuss how to combat the rise of extremist groups online.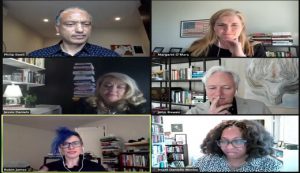 "A lot of people in my field of sociology didn't see [the internet] as a big game changer, but there were a few of us who thought it was a big shift," said author and Hunter sociology professor Jessie Daniels. 
The internet changed how people connect with each other and the news. More than eight in 10 United States adults get their news from a smartphone, computer or tablet, according to a recent Pew Research Center survey. College students specifically spend about eight to 10 hours a day on their phones, another study found. 
"The 1994 release of the Mosaic browser meant everybody could log onto the internet," Daniels said. "That also included white supremacists."
Professor and popular music philosopher Robin James said there needs to be pushback on the idea that white supremacy and racism is new. Instead of the internet giving life to those movements, it really helped them to connect and gather in a way they hadn't before. The attack on the Capitol in January was partially organized by people on Facebook. Twitter, along with other major social media sites, banned former President Donald J. Trump from their platforms in an attempt to stop future riots.
Sometimes online media has the opposite effect. All of the panelists work in public scholarship which refers to a way of sharing knowledge with communities in an accessible way. John Biewen, creator of the "Seeing White" podcast, said he was "plunged" into humanities through podcasting. Unlike traditional radio segments, podcasting allows for multi-episode exploration on topics that may be more involved. "Seeing White" uses historical and present day examples to explain when and why race was created. 
"Give people the information, tools and understanding to help us figure out together who we want to be and how we need to change to get there," Biewen said on what he hopes his work will do.
In the question and answer portion of the Zoom event, an audience member asked what it was like for women in academia and on the internet. Besides Biewen and moderator Philip Ewell, the panel was mostly women. Musicologist and writer Imani Danielle Mosley said her gender usually took a backseat when it came to criticisms in her work and online. 
"It has always been centered around my Blackness," she said. "As if I, as a Black person, do not have access or the ability to talk about a cultural product that is so rooted in whiteness."
In the last six months, Mosley has been writing on Black Lives Matter protests and the "act of witnessing." She defined this as intentionally interacting with or watching something online. Sometimes witnessing happens unintentionally. Mosley recalled a time she saw the Christchurch mass shooting on Facebook live involuntarily. Another example is last summer's viral video of the murder of George Floyd.
"You used to have to wait for the news to tell you about a subject," Mosley said. "Now, not only can you search out the news yourself, it sometimes happens to you."
The panelists left the audience with some tips on how to enjoy media while still looking at it through a critical lens. They said it's important to know when to disengage and disconnect, as well as setting boundaries. To stop unintentional witnessing, Mosley recommended turning off video autoplay on apps. 
New York Times opinion writer Margaret O'Mara pointed out that algorithms are meant to either enrage or enflame the emotions of those using them to keep them on screen.
"The rise of the internet created a fire hose of information and a hunger for content," she said.