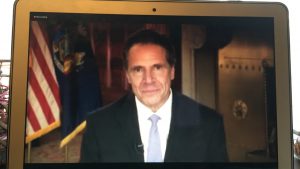 Governor Andrew Cuomo is no stranger to answering the tough questions for journalists. A frequent guest on his brother's, journalist Chris Cuomo, show, their witty tiffs have captured the attention of audiences across the nation. Last week, he took a gentler approach to the Fifth Estate. 
Talking about the journalists of his youth, including Jack Newfield and Wayne Barrett, he told a virtual audience, "They taught me that journalism at its best was about finding the truth, as hidden, difficult, complex, or uncomfortable as that truth may be."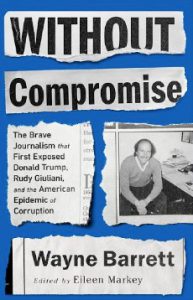 Cuomo joined the panelists of the Roosevelt House's 2020 Jack Newfield Lecture in honoring the late Barrett, an investigative journalist who reported on New York's politicians starting in the early 70s. Barrett, who passed away in 2016 the night before President Trump's inauguration, began his work as a journalist writing freelance for The Village Voice. He eventually worked his way up to senior editor, reporting on corruption in local government during the Giuliani administration and the shady business ventures of then up-and-coming real estate developer Donald Trump. 
The virtual event celebrated Barrett's posthumously published book, "Without Compromise: The Brave Journalism that First Exposed Donald Trump, Rudy Giuliani, and the American Epidemic of Corruption." A panel of his friends and mentees reflected on his contributions to journalism in New York and its relevance today. Barrett had also served as the inaugural professor of the Jack Newfield Visiting Professorship of Journalism at Hunter College, a program named after investigative reporter and Hunter alum. During his time as a professor and mentor, Barrett taught his students about journalism's primary role of seeking out the truth and holding those in positions of power accountable. In a world where the president has deemed the press the "enemy of the people" his teachings are especially relevant today. 
During her introduction to the panel, Hunter College President Jennifer Raab spoke to the principles Barrett embodied, ones that Newfield, who was also his mentor and coworker, had taught him. "Discover, dissent, dig, reveal, confront, besiege, level, care," she quoted from Barrett, ideals he passed down to his students and observed in his own work.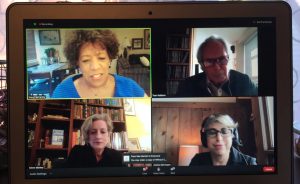 Assistant professor of journalism at CUNY's Lehman College, Eileen Markey, the book's editor, emphasized the need for journalism following Barrett's example, especially in today's political climate. Citing the current investigations being conducted against the president, she highlighted how much of the current reporting relies on Barrett's research into Trump from the 70s. 
"News readers have a renewed respect and understanding that democracy really depends on serious journalism," said Markey. "We wanted them to be able to look at the original document which is really fitting, one of Barrett's famous reporting methods was to go get the documents." 
Fellow panelist Tom Robbins, an in-residence investigative journalist at the CUNY's Craig Newmark Graduate School of Journalism, agreed that it was Barrett's reporting methods that distinguished him. "One of Wayne's fairly unique approaches to his stories was that he believed in knocking on every door, often no matter what time of day it was," he said with a chuckle. 
As the event wound down, the panelists reflected on journalism today and the downsizing of local newspapers. They stressed the ongoing need for investigative journalism and journalists unafraid of holding politicians accountable. 
"It needs a future, we need it, the society needs it, the population needs it, the voters need it," said Markey. She also emphasized that there is still important investigative journalism being done, citing the work that fellow panelist Andrea Bernstein has done as part of the WNYC/ProPublica podcast "Trump, Inc." 
Earlier in the panel, as Governor Cuomo wrapped up his opening remarks, he ended on a statement that captured the necessity for good journalism today. He said, "We miss him. We miss them. We miss the truth."