As a social justice activist, Hunter alumna and poet Audre Lorde would fit right in with many Hunter students today. As a self-described "Black, lesbian, mother, warrior, poet," Lorde's writing centers on the liberation of people from all races, genders and classes. The Roosevelt House series "Audre Lorde Now" celebrates and highlights her work, which relevance endures today as it did at publication in the late 60s and 70s.
"I feel like this was written yesterday," panelist and 2020 graduate Katherine De La Cruz said of Lorde's work. Another participant replied Lorde's work resonates because the same issues exist today.
Last week's event, "Doing Our Work: Confronting Racism and other 'isms," featured four Hunter students discussing how Lorde inspires them in their own social justice work. Just days before, Lorde joined the American Poets Corner where her work will be on display at the Cathedral of St. John the Divine along with other great American writers like Ralph Waldo Emerson and Mark Twain.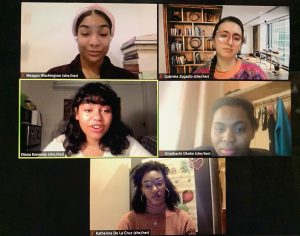 In advance of the event, participants received suggested poems and essays, including "Coal," "Afterimages" and "The Transformation of Silence into Language and Action." The readings helped guide the discussion between the panelists, which was moderated by Lorde scholar, poet and Hunter adjunct professor Meagan Washington.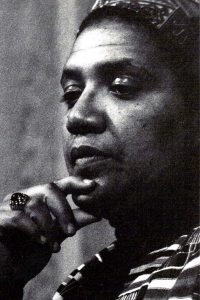 Lorde, who died in 1992, often emphasized the importance of defining and using emotions in her social justice writing. This resonated with Senior Onyekachi Okeke who said anger creates change. "Work with other people and make solutions. Be the change you want to see," she said.
Lorde attended Hunter as both student and teacher. She taught in the English department from 1981 to 1986. She taught "U.S. Literature after World War II."According to Lorde's former student, Sarah Schulman, Lorde changed the name of the course on the first day to "The Poet as Outsider." Schulman said they studied Black, Native American and lesbian poetry.
Following the panel, participants joined preassigned breakout rooms to continue the conversation. The suggested reading introduced them to new works by Lorde as well as new ways to see ones they read before. One of the participants, Lisa, called Lorde's intersectionality inspiring.
The name of the discussion came from Lorde's asking her audience if they were "doing their work." Third year student Diana Kennedy said people shut their ears to the issues of people who don't look like them. "Listen to other people," she urged.
For Washington, the moderator, these were the types of things she said she would reflect on. "I'm not turning on any more technology tonight. I'm just going to sit and think about all these ideas."