Chloé Williams was two months into her final year of college and seven months into a pandemic when she realized any previously made career plans were not going to happen. After graduation, she hoped to work at Man Repeller, an online publication. In the last year, Williams watched it rebrand to Repeller then close completely. Between the rebrands and closures, she began to rethink everything.
"It opened my eyes that if I was qualified enough to get hired at my dream job, I'm qualified enough to make the publication I want to work for," she said.
Williams, a creative writing major, created the "Chloé in Letters" newsletter in October 2020 and released the first issue that November. The newsletter comes out the first Friday of every month and she gets 10 to 12 new subscribers with every send accumulating over 300 readers.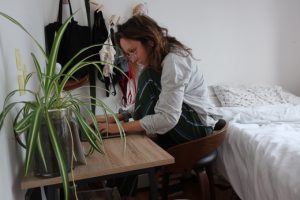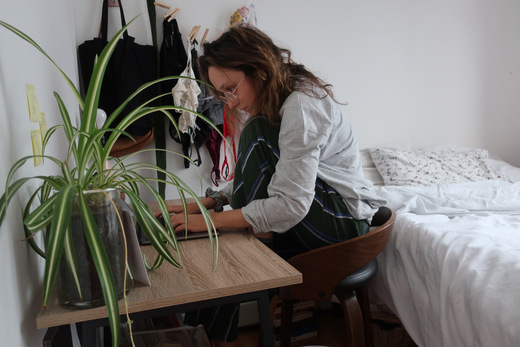 Like Williams, several people began new projects while in isolation. According to a recent Upwork study, two million more Americans started freelancing in 2020 than the previous year. Hunter College students have not allowed the pandemic to stunt their career growth. Instead, they used this time to fully immerse themselves in it.
When the pandemic closed her Brookdale dorm room that she used as a recording studio for her podcast, "Tea For Three," junior Hannah Kavanagh also had to adapt to a remote future. "I took a few months off because I didn't know how this was going to translate to a remote platform," she said.
The podcast, created in March 2019, featured Kavanagh and her friends trying new teas and talking candidly about mental health, American politics, dating and more. When New York went into lockdown a year later, all recording stopped.
"Tea For Three" partially returned in August 2020 because Kavanagh was focused on her classes and still adjusting to pandemic life. "At first, I ended up recording the podcast over Zoom. It was a really janky set up, " she said.
The pandemic taught Kavanagh a lot about adaptability. It also showed her how much she really enjoys making the podcast. For the future, she hopes for it to become its own brand. She has been keeping up with social media engagement to gain listenership.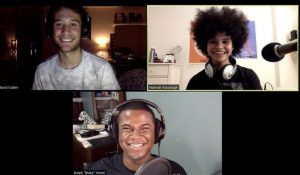 In January 2021, the podcast made a comeback. Today, Kavanagh uses the Squadcast app that is specific to remote podcast recording. Each person's audio is recorded separately and then combined, allowing better sound quality.
Besides being forced to create and share remotely, the pandemic also caused a lot of financial burden. Williams, of "Chloé in Letters," recently lost her part time job and has been thinking about monetization. The newsletter lives on a Substack, a platform designed for independent writers to share their work with subscribers. The platform has a feature that can change free subscriptions to paid ones.
Williams said she loves sharing her work for free and connecting with people. "Ideally, when my newsletter is a year old, I'd like to add a monetized version," she said.
Similarly, Kavanagh said she might like to start a patreon account for the podcast. She has invested a lot of money into it so far with professional recording supplies costing about $400. Her monthly subscriptions to Squadcast, the Adobe Creative Cloud and Soundcloud amount to $80.
"I'm thinking about establishing a patreon and monetization once I graduate." Kavanagh said once the podcast feels more like a brand and has a consistent upload schedule, she'll look more into it.
Transfer student Alisa DiLallo Padro also has a podcast, "The Experiencers." The show, which was recorded in a studio at Hostos Community College before lockdown, is based on Padro's friends and their unique origin stories. The first episode will feature Lily Lightbourn Herbert, who won Miss. Bermuda in 2014. Because of the pandemic, only a trailer was released in February 2020. In the trailer, she said the podcast will focus on pinpointing moments in the guest's life that might have changed them forever.
Her experience in audio brought career opportunities. Padro currently works as a paralegal at a law firm and one of the attorneys asked her to help start a podcast. She also helps produce music for The Rock Church in Queens. Padro said she hopes to finally use all of her unedited interview material to release her podcast when she gets back in a studio space.
Williams and Kavanagh are excited to continue their projects and see where it leads them. "I'm really proud of it and it's not just resume padding," Kavanagh said. "This is something I'm genuinely passionate about."