As part of his pediatric nursing class this semester, Joel Okpara, spent time at a Brooklyn hospital performing injections and changing bed sheets. This work satisfied the clinical requirement for his degree, giving him hands-on experience that prepared him for the future.
But six weeks into the semester, the COVID-19 pandemic hit, Maimonides Medical Center was closed to students and Okpara's clinical ended. As a substitute, Okpara now sits on the sidelines as he watches an animated nurse assess vital signs and administer drugs through an online module that simulates the clinical experience.
"I feel like COVID-19 took a valuable experience from us," said Okpara, who wants to pursue pediatric nursing when he graduates. "Nothing beats being in class, asking questions, answering questions together."
Okpara is one of about 530 undergraduate nursing students at Hunter who have had their on-site training cancelled. Instead, nursing students are using vSim for Nursing, a virtual program that aims to provide students with a computer-aided reproduction of the in-person experience. Along with the online module, students are learning through lectures and debriefing sessions, says Bob de Luna, Hunter College's assistant vice president of communications.
"All of these are real opportunities for students to learn things," said Luna about the mid-semester learning modification. "Students get constructive feedback."
Some nursing students have been concerned about how the new plan may affect their ability to meet state requirements for nursing.
In response, Luna says that Hunter received prior approval from New York State for the modified system of learning. The state will recognize student degrees and students will be able to take the National Council Licensure Examination, or NCLEX.
Like Okpara, some students find that virtual lessons involving patient care and discussing those scenarios online pale in comparison to the real thing.
"The clinical section is the best part of nursing school because it allows you to be interactive and hands on," said nursing student Yu Liang, who has administered insulin and witnessed vaginal and C-section births during her time at her maternity clinic. "You experience the hospital setting."
In the hospital setting, Liang would also take vital signs and make connections with her instructors and nurses. But, none of this is possible from behind a screen.
"The biggest disadvantage is that it's not real," she said. "You know it's not real because the graphics aren't that good and it's just a fake patient with programmed responses."
However, Liang and other students find that vSim is preparing them for situations that they may have in a hospital setting.
"If this happened to me in a hospital setting, I would have no idea what to do," Liang said, of a virtual incident in which she was taking vital signs of a patient who started seizing. Having been exposed to that for the first time through virtual simulation, Liang does feel more confident if that were to happen in reality.
"I am a lot more calmer now in case it does happen in the clinical setting," she said, acknowledging an upside to vSim.
"vSim gives structure to provide training in a predictable path but of course, the real life situation will not be predictable," said Luna.
Nursing students around the world face this same situation. "Medical education hasn't faced anything quite like this since the beginning of the second World War," Dr. John Prescott of the Association of American Medical Colleges told Kaiser Health News.
The high risk situation doesn't scare, Okpara.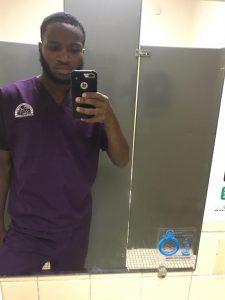 "Because of this, I've seen how the nurses responded, I've seen how they derive strength in numbers and I just want to be a part of that. I just want to be a part of being there for everybody," said the nursing major. "They are who everyone goes to–the nurses, the doctors, the healthcare professionals. I've never wanted to be a nurse as much as I want to now."