While the rest of us live in our selfie culture of the "perfect moment" and the era of Instagram, one Hunter sophomore is seeking to capture the "imperfect moments" and show that those can be even more meaningful.
It all started for Lila Amin when she was asked to join her high school yearbook club. As soon as she started shooting pictures of her classmates at Walt Whitman High School on Long Island in 2015, Amin, now a Hunter sophomore majoring in psychology, knew this was something she would love to explore.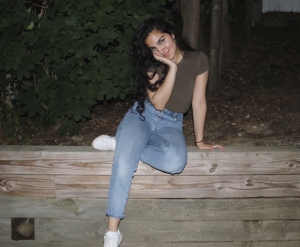 "I finally found something that allowed me to get out of my own head and focus on other people," says Amin, who has suffered from depression. If she was having a tough time at home or school, photography became an escape for her. "It's an outlet where I can be creative and help others express themselves."
She began to save up her money for her own camera by working part-time jobs, and soon had enough to get a Canon t6i, which she uses today. She takes all her photos using natural light, so she doesn't need any equipment besides a camera.
Practicing photography for four years now, Amin focuses on portraits and is currently trying to build a portfolio by shooting other Hunter students. Mayar Safwat, who has done multiple photoshoots with Amin, explains how from the beginning they just gelled together and it felt like a good fit. "I instantly felt comfortable. She really has a great energy and I felt like I could be myself." Amin wanted to practice her photography and Safwat offered to be a model for her. They traveled throughout New York City to find clever spots for photoshoots and have been working together for over a year now.
Amin's favorite part about photographing others is finding those who are uncomfortable thinking about their own image – rather than models — and helping them find confidence by doing a photoshoot for them. "It makes them feel good about themselves, which makes me feel good about myself in return," says Amin.
Safwat added that Amin's portrait sessions have been a confidence booster.
"I think everyone struggles with insecurities at some point and it can be hard to overcome," says Safwat. "When I did my first shoot with Lila I was nervous to see how the pictures were going to come out. Now I get eager to see because through the photos she takes I feel confident, empowered, and my insecurities slowly go away."
Nate Hiatt, another client of Amin's, met her at the 79th Street dorms and instantly they connected over their shared passion for photography. "Usually I am the one behind the camera, so it was nice to find someone who is a photographer and I get good photos back in return," Hiatt said.
Amin directs the subject on how to pose at each photoshoot, which helps her explore her artistic side. But makes a deliberate effort to look past that idea of capturing the 'perfect moment' – something so prevalent in our selfie culture and era of Instagram. That is not her goal at all; instead, Amin tries to capture the 'imperfect moments' and show that those, too, can be considered 'perfect.'