On Valentine's Day, students were seen surrounding one of the tables located at the intersection between Hunter's North, West, and Thomas Hunter buildings. They received red bags filled with candy, a small plushie, and boxes of Always pads. The bags were placed behind labels that indicated the pad size they contained. In the middle there was a basket of bright pink bags of condoms for students to grab as well.
Since 2018, volunteers from the Undergraduate Student Government have led the Purple PEERiod Project, handing out tampons and pads to students who need them. The project, funded by the Student Activity fee, was halted during the COVID-19 pandemic but relaunched during the Spring 2022 semester.
"We want to build access," said Shuhashini Khan, USG Student Welfare Commissioner. "With the Pink Tax and general inflation, everything just costs more and we shouldn't have to worry about spending as much as we do buying something as basic as pads and tampons."
Access to affordable feminine products has been a pressing issue for students across the United States. Thinx, a New York-based feminine hygiene company known for their period-proof underwear, partnered with the youth-led nonprofit group, PERIOD, to conduct a national study on the impact period poverty has on students. Their findings found that 1 in 5 teens (20 percent) surveyed either struggled to or could not afford feminine products.
Inaccessibility to free and affordable menstrual products is shown to have a negative effect on students' academic success. According to the same report, more than 4 in 5 students (84 percent) have "either missed class time or know someone who missed class time" due to lack of access. This can cause students to fall behind in their studies, which has worsened due to pandemic-related school closures.
In recent years, legislation has been passed in 16 states and Washington D.C. to ensure students' accessibility to free period products during menstruation. New York passed a law in 2018 that required all public elementary and secondary school restrooms to provide these products to students at no cost. However, this did not include public colleges.
Hunter student Winnie Kong noted that it's important to have access to these products on campus since some might feel "embarrassed or ashamed" to buy them at stores due to stigma surrounding sex and menstruation.
"I feel like since most of us are around the same age range, I feel like it would feel more comfortable if I were to receive something from someone my age," said Kong.
Hunter students now have access to free pads and tampons in both female and gender-neutral restrooms when the campus is open. They can also pick them up at the Office of Student Activities and Undergraduate Student Government office during business hours on non-distribution days. This has benefitted Yostina Girgis, the Undergraduate Student Government Vice President.
"I realized I only had one pad in my bag and I was like 'you know what? It's fine because I can just walk into the office and get myself a pad,'" she said.
However, supplies are prone to run out. Along with that, the Purple PEERiod Project only distributes once a week, alternating between Tuesdays and Wednesdays throughout the semester. Khan pointed out that when it comes to replenishing products, it can take a long time for them to come, even if the Office of Student Activities orders them weeks to months in advance. There's also the issue of labor, as workers who restock them may be short-staffed.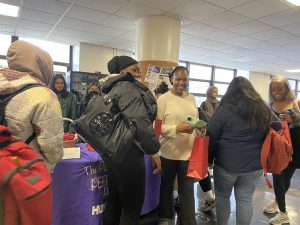 Despite this, Hunter USG makes sure that they have menstrual products and condoms in their office. Their other priority is to spread awareness to Hunter students about the initiative by posting flyers around campus and posting on social media. Through their outreach and events they've been able to gain new volunteers.
"We've talked to them about it and they're like 'wait, I want to be involved in this, let me be a part of that,'" said Girgis.
Both Girgis and Khan hope to gain more support from CUNY for the Purple PEERiod Project. This could allow them to hold distribution events on multiple days during the week and increase the amount of products they give out. Overall, the response they've seen from students about the initiative has been positive.
"I've had students coming and saying 'what you guys are doing is amazing,'" said Khan. "Hearing that makes me feel like this is creating some sort of an impact."
Information about distribution events and locations can be found here.