Students of all nationalities, races and ethnicities gathered on May 3 at the South Asian Cultural Club formal held at the Brookdale Rotunda, united by the beat of the drums. The club sold over 550 tickets and sold out days before the event.
The lines were out the door as Hunter and non-Hunter students alike waited to be allowed entrance into SACC's formal. Students from SUNY Stony Brook, University of Albany, Drew University, and many more made plans to come all the way to NYC specifically for the formal.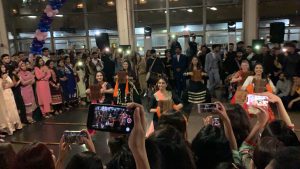 "Hunter isn't a party school, but we do it the best anyway," said Muhammad Afaq, a club executive board officer. "As a freshman I never thought I would be a part of something this crazy, but it doesn't end here."
Originally three individual clubs – Pakistani, Bengali and Indian – SACC was created when the three came together to spread and promote South Asia cultures in Western societies. The formal is their biggest event of the year. With dholi drummers and dancers performing their traditional dance routine, everyone at the Brookdale Rotunda was singing and jumping along to the music.
"Our goal was to take everyone to South Asia and let them experience the culture firsthand, being inclusive to all and making sure the songs resonated with everyone," said Nafiul Bahri, another executive board officer.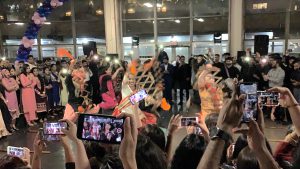 The DJ played a mix of Punjabi, Hindi, Bhangra and many other songs; but the crowd went wild towards the end of the event when songs such as "It's Getting Hot in Here" and "Te Bote" blasted through the speakers. The recordings were drowned out by the voices of everyone singing along and dancing to the music.
Club members are already looking to top themselves next year.
"Stay tuned for Hunter Formal 2020," Afaq said. "You know the vibes!"