Hunter College's commuter students have more time than ever before, now that remote-learning has been put in place for the remainder of the spring semester. These students can literally roll out of bed and attend lectures, whereas before it would take hours for them to make it to class.
"Waking up a couple of minutes before your class and still making it on time is nice," said biology major Sahamanta Ojeda. She used to commute to Hunter six days a week from Westchester, New York, dedicating nearly four hours each day to her commute. Ojeda learned through trial-and-error that it was better to take the train that would get her to school an hour earlier than she needed to be there, just to avoid any subway delays.
With their new at-home schedule, students like Ojeda are now able to enjoy even the simplest of things. "I've been having more time to sleep, and now I'm even able to eat breakfast before class, which are not always your main priorities when you're a commuter," Ojeda said.
Staten Island native and biology major, Nour Elshabassy, used to commute two hours each way to attend Hunter. "It left me with four less hours each day where I could've studied or went to the gym," he said. Now Elshabassy, like Ojeda, has been enjoying sleeping in as his old commute wouldn't allow for much rest. "And obviously I was more tired when I went home, so that made me less productive."
While these commuter students expected that their influx of time would positively impact their performance in school, they still face an old academic threat: procrastination.
In a 2016 study on academic procrastination, CUNY graduate Mark Graff found that students who rated themselves as more capable to accomplish tasks also reported higher levels of procrastination. Those same students generally reported less time being spent on work, as well as less completed assignments altogether.
"Now I have more time to theoretically study or do anything else," Elshabassy said. Instead, he's been using this time to indulge himself in activities he wouldn't be able to "unless there was a break within the semester," like watching television or playing video games. "But I gotta say, procrastination wins," He added.
Junior and accounting major Victoria Daliza used to spend four hours of her day on her commute to and from school via LIRR, and would scramble to complete her homework at night. This is no longer a concern of Daliza's, as she says: "I'm less stressed about having time to do my work."
Daliza lucked out this semester; in addition to getting those four hours back, most of her professors are allowing all work to be submitted by the end of the term. "School is definitely easier, especially now that my professors are being more accomodating," she said.
Despite this, Daliza still procrastinates. "I've spent all my time watching shows, talking to my cousins on Facetime, and self-care." Since both her anniversary with her boyfriend and her birthday fell during the government issued lockdown, Daliza claimed "she got extremely down during this time." So, she booked her and her boyfriend a trip for December, and feels "a vast improvement" on her mood now that she has something to look forward to.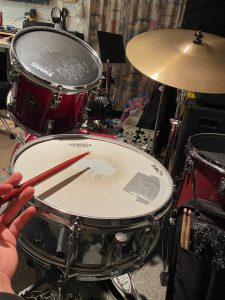 Although he's a computer science major, recent transfer Daniel Rizzo spends most of his time making music. Since he's also a drummer for his hometown band, No Coincidence, in Long Island, Rizzo has been using his free-time to work on his craft. He thinks this "reset," as he calls it, has resulted in his best drum-playing yet.
Academically, however, Rizzo's been finding his transition to remote learning to be less straightforward. "The classes where my professors are just sort of throwing up notes for the class to take in on their own, aren't really going that well for me," he said.
Whether the struggle comes from transitioning to an online classroom or from fighting the urge to do something more fun, these Hunter students find that they can't blame lateness on the MTA anymore.
"Personally, I like the fact that I'm not commuting," said Elshabassy, from Staten Island. "What's been really getting me is that I just can't always get myself to do schoolwork. It's a huge hill I gotta get over."