Hunter music students showcased their talents under the lights of the Lang Recital Hall last week, performing work by Mozart, Brahms, Ponce and Villa-Lobos, among others, in the first student recital of the semester.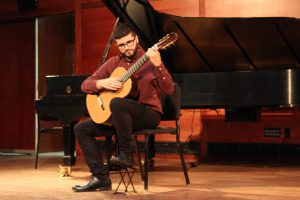 The evening started out with Abel Henriques performing "Prelude 3 and 4" by Heitor Villa-Lobos on guitar. As the graduate student, 23, picked at the strings, he changed the pace of the rhythm and volume to provide more emotion to the piece.
"The recitals are really important to give performers a chance to get more experience," said Henriques. Many students audition, he said, but only a few are chosen to perform. "Playing for a recital isn't easy to get, so playing for people you know and in a place you are familiar with is amazing."
Nora Spielman took to the stage next, also on guitar, performing "Theme, Variations and Finale" by the Mexican composer Manuel Ponce. Spielman, after tuning her guitar, explained how the piece came to be, saying Ponce was writing a Spanish-style song. Typically, this style of music is deemed as "folky," she said, but Ponce considered it a classical art form.
Jade Schoolcraft, a violinist, and Yihao Zhou, a pianist, performed a duet of "Concerto No. 3 in G Major" by Mozart. They performed in sync with each other for the eight-minute piece, and hugged at its conclusion on stage, sharing their "congratulations" with one another.
Olivia Graham took center stage next, as her accompanist began to play "Feldeinsamkeit Op. 86 No. 2" by Johannes Brahms. Graham was the only singer in the program and performed in German. She implemented the use of vibrato in her performance, a rapid variation in pitch, which added to the emotion she was trying to convey throughout the song.
The last student was Elham Fanous, who performed "Suite No. 3" by Bach, as well as "Hungarian Rhapsody No. 2" by Liszt. During his performance, audience members were so captivated, the buzz of the Lang Recital Hall lights was all that could be heard during the brief pauses from the piano. His fingers dashed across the piano keys with intensity throughout both pieces. When his performance ended, Fanous stood up and took a bow, and received a standing ovation from half of the audience, along with an eruption of cheers.
The performers greeted friends and professors in the audience after the hour-long recital.
There will be two more recitals this semester, said Quynh Nguyen, the acting director of performance studies, and students audition a couple weeks before the recital. Decisions are made based on the timing of the pieces and the variety of the repertoire, she said.
"It can be intimidating playing in front of people," said Henriques, "but there's no better feeling than doing what you love."