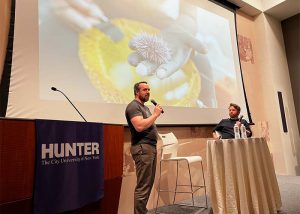 The Journalism Department of Hunter College hosted documentary filmmakers Dominic Smith and Andrew Robinson on April 18 at Roosevelt House to discuss their project "The Vanishing, Invisible Forest."
The short-form video project jointly produced by Smith and Robinson follows Josh Smith – a marine ecologist studying kelp forest ecology for 11 years – through the depths of California's Monterey Bay to identify the factors detrimental to the survival of the region's kelp forests. Using a remotely operated vehicle to record underwater surfaces, the reporters show how a growing population of purple sea urchins, combined with rising heat waves in oceans distorting sunflower sea stars – natural predators of carnivorous sea urchins – has vanquished the bay's kelp forests.
"I saw many articles in 2015, which were about kelp forests disappearing. Kelp forests are of particular interest to me as a Californian" said Robinson on what inspired him to pursue the story.
Robinson told The Athenian that he and his colleague started working on the film last February and spent several months in the post-production process.
During the event, Smith and Robinson stressed on a larger way of telling climate stories, which they acknowledge to be deeply entrenched in academic lens. " I think that there is so much science involved, so much information to convey, it can become tediously boring pretty quickly even though it's very important and it's going to impact everybody here," said Smith.
Upon discussing their work, they tended to questions from those attending the event. Earlier in the day, the filmmakers also interacted with Hunter students on campus during an informal lunch to discuss some of the other science-focused works they have produced.
Both Smith and Robinson partnered with the Pulitzer Center to sponsor their project.
The event also honored Laila Gad, this year's Pulitzer Reporting Fellow. As part of her project, Gad plans to travel to one of Singapore's hottest neighborhoods to document lives of older residents living through heat waves. She also intends to explore considerations necessary for policy implementations in both Singapore and New York City.
"I feel grateful to have met them because now I have mentors, but now I have learned tricks and tips that will help me when I am making my own mini-documentary in Singapore," says Gad.
Gad's commemoration signals seventh year of collaboration between Hunter College and Pulitzer Center. "It's an amazing opportunity every year for Hunter students," said Professor Sissel McCarthy, director of Journalism Program at Hunter College.
"The students on campus are so driven here," said Mikaela Schmitt, a Program Coordinator for the Campus Consortium and Outreach at Pulitzer Center. "I feel like here in particular, the students just have so much ambition and so much curiosity," adds Schmitt while appreciating interaction between students and guest speakers.
The event was attended by, but not limited to, Hunter students. Mihir Thakur, a software engineer at Amazon came to know about the event online and decided to attend. "First of all, the story was really interesting, and I think the personality of both journalists was something that left an impression on me," said Thakur.
A reception following the main event saw attendees conversing with guest speakers over food and beverages being served.