As students entered the Game Room of Thomas Hunter Hall, their senses became imminently occupied by a cluster of sounds, aromas, and sights. A Spotify playlist set for the evening switched between Bollywood, Uzbek, and K-Pop music. Food counters set at a corner served delicacies ranging from biryani to Banh Mi sandwiches. And dance performances magnetized every foot to the floor.
This scenery is from the evening of May 4 as Hunter College hosted its first "Taste of Asia" event to commemorate the beginning of Asian American and Pacific Islander Heritage Month. The event came to be organized by the Undergraduate Student Government, which for the first time brought together five Asian groups, each representing culture of different regions.
The current student government views such large-scale collaboration as essential in making Hunter more inclusive.
"Part of the reason that we incorporated a lot of different culture clubs is because there needs to be a more widespread understanding of what it means to be Asian," said cultural affairs commissioner Asia Akperov.
Noila Ergasheva is a founder and president of Uzbek Hawks. A biochemistry student at Hunter, she had the idea of starting a Central Asian Club during  her freshman year in 2019. Although COVID-19 lockdowns did not allow the club to operate physically until 2022, Ergasheva, now a junior reported that the club has accomplished beyond her expectations, blossoming into a "beautiful wholesome community."
"I hope there's at least something people can take away; in terms of culture wise, tradition or in any other form of insight," says Ergasheva on a key reason encouraging her team's presence at the event.
Students gathered in large numbers to enjoy delicacies and take part in performances delivered by Philipinos of Hunter and Uzbek Hawks.
Ergasheva and colleagues invited Malika Burieva, who performed a revised version of "Maftun Bo'ldim," an Uzbek classic from 1972. Bureiva was also accompanied by her father Najmiddin Buriev, a renowned Uzbek singer and instrumentalist.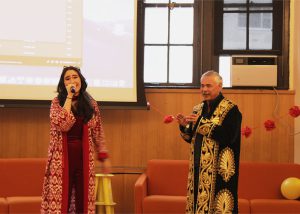 "I expect that everybody will enjoy and appreciate Uzbek culture a little more because we are so forgotten in this world," said Bureiva.
The Uzbek classics were soon followed by energized performances by Philipinos of Hunter, who danced to beats of "Todo, Todo, Todo," a song by Mexican singer Daniela Romo.
Attendees were also able to broaden their knowledge of cultural nuances through a game of Jeopardy played between five teams.
An attendee told The Athenain that engaging with Hunter KSA introduced him to Hangul (Korean) catchphrases.
However, some have also found becoming part of a cultural club of their ethnicity equally beneficial as exploring values of other groups. "It helped me get out of my box," said Calvin Tam, vice-president of Hunter Vietnamese Student Association.