Whether it's DIY dye jobs, "pandemic bangs," or last-minute tattoos, 2020 gave many students the chance to experiment with their appearance. Last year, people were taking to social media in droves to share their, sometimes regretful, decisions to try something new.
For Hunter graduate and hairdresser Lissa Lenis, social distancing gave her the time and space to experiment with her own hair.
"As a hairstylist, I've been through every color in the book," said Lenis. "During quarantine, I was watching 'My Hero Academia' and decided to just color my hair. I did one side red and the other one white."
She didn't stop there. Over the quarantine, Lenis changed and dyed her hair over five times. For her, it was an easy and fun way to change things up and get over her pandemic-induced boredom.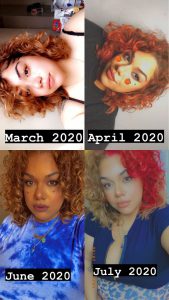 During the quarantine, many struggled with feeling uninspired and lacking motivation. But for Lenis, the past year has let her artistry grow in ways she couldn't have predicted.
"Being stuck at home really didn't hinder my creativity with my hair and makeup, it actually expanded that," said Lenis.
In March of last year, she created a TikTok account to expand her online following when the world went virtual. Earlier this year, Lenis passed 2,000 followers.
Her inspiration even led her to reconnect with an old passion, comedy. 
"In the past year, I have become so creative, I've went back to comedy and have really grown. I have an ongoing comedy show in the West Village that I never imagined having last year," said Lenis.
Even with her newfound hustle, Lenis still makes time to express herself through her hair and makeup, a tradition reinforced by the pandemic.
"When it comes to hair and makeup, that will always be my first love," said Lenis.
For student Michael Hartmann, like many others, the quarantine brought challenges. 
"It was the same routine, same thing every day. I needed to change something," said Hartmann. Last year, he decided to memorialize one of his favorite game series, "Dark Souls," as a tattoo.
"My roommate wants to be a tattoo artist, so I almost let her do it," he said, laughing. "But I really wanted it to be clean and matter to me," he said.
With the stress of having to balance a new apartment, relationship and student life after losing his job due to the pandemic, Hartmann quickly fell into a rut. During bleak days spent waiting and worrying, video games became his escape. The game provided a challenge and distraction from what was happening in the world. 
"Getting my tattoo felt special," said Hartmann. 
Hartmann was partially motivated by photos that his friends were sending him sporting their new tattoos and hairstyles. Earlier this year, he tried a hairdo he's never had before.
"I went to a real barber for the first time since the pandemic a couple months ago," said Hartmann. An hour later, his tousled, curly hair was shaped into many tight braids. "I wanted to try something totally new but I didn't know if I'd like it. Now seemed like the perfect time."
And if you ask him, he was right about his hair; the braids only lasted for a couple of weeks before he took them out. "I would try something different again, though," he said. 
During 2020, Hunter graduate Maria Varela spent a lot of time online. In between attending Zoom classes and job hunting, she spent a lot of time scrolling through TikTok.
"I started seeing more and more people posting their hair and it made me wanna do something," she said. "But I was too scared to kill my hair," she said.
Instead, Varela decided to get a new ear piercing and her first tattoo.
"I really wanted to do something that was completely for me," she said. "I guess it was like self-care."
Varela, like many, suffered from pandemic burnout. After losing her job, she experienced a lot of stress about her future. As a film major, her career stalled while in-person filmmaking was paused. 
"The constant search gave me anxiety," she said.
Like Lenis, changing her appearance was a simple, fun way to break the monotony of Varela's routine. 
She is anxious and eager to get her second tattoo; she has already picked out a simplistic flower design.