Every morning, Nancy Collie's dog Moritz–who she affectionately refers to as Momo–brings her a sock. No matter how many times Momo has greeted Collie with this act, his enthusiasm and excitement are always the same.
Collie, 27, adopted him last summer when he was three and a half months old. She'd lost her 13-year-old dog and "soulmate" Puck the previous February.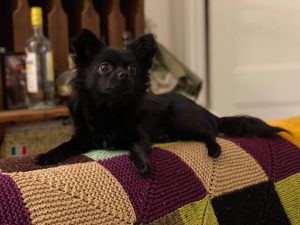 "I was working full time, was in school full time, my dog died, and then a global pandemic hit. It was hard," Collie, a biology major, said. "To be honest, I didn't have much of anything bringing me happiness. I was really exhausted and everything just didn't really matter."
Collie's mental health started to improve when she adopted the six-pound chihuahua. The responsibility of having to care for a pet brought her structure and routine. She spends at least four hours a day playing with him, which helps distract and clear her mind. Plus, there are his daily walks.
"For a long time, taking him on walks was the only legitimate reason I had to leave the house," Collie said. "Just getting outside and getting a little bit of Vitamin D from the sun was super helpful."
"Those are the things that sometimes we don't even think about when we're trapped in a tiny apartment in the middle of New York City. You forget that you as a person need to move and need the sun."
Collie's not the only student experiencing mental health issues during the past year. Seventy-one percent of college students have experienced an increase in stress, anxiety and depressive thoughts during the pandemic, according to a study by the Journal of Medical Internet Research. Students said the culprits of their mental health issues are worries about their own and loved ones' health, difficulty concentrating, disruptions to sleeping patterns, decreased social interactions due to physical distancing and increased concerns for academic performance.
Animals may be just the medicine that students need. Students who participated in animal-assisted stress intervention saw improvements in learning, feeling relaxed and accepted, a research project by Professor Patricia Pendry and Jaymie L. Vandagriff of Washington State University reported. "The results of the study are exciting as they indicate this type of intervention can be a positive stress management tool," Pendry said.
Many Americans have been trying to get their hands on pets during the pandemic. 2020 saw a rise of 26,000 in pet adoptions from animal shelters and rescue facilities, compared to the previous year — an increase of about 15%, according to data provided by the Shelter Animals Count, which tracks around 500 rescue organizations across the country.
It wasn't until after Sophiya Thulung, 20, had decided upon the name Chere for her cat that she discovered her pet was actually male. She decided to keep his name, inspired by the French word "mon Cheri," because he "looks like such a sweetheart."
Thulung, a media studies major, adopted Chere four years ago but has found extra comfort in her cat in recent months. Thulung, who is Nepali-American, has experienced anxiety recently with the rise of Asian hate crimes.
Thulung's declining mental health took a toll on her body. She had difficulty taking care of herself and struggled with her appetite. When she started taking care of Chere, she noticed the positive improvement it had on her.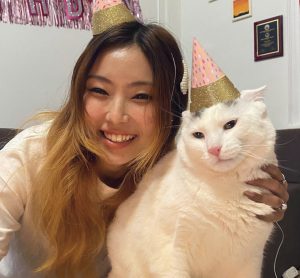 "Chere was there eating in front of me and I don't know, but it was very helpful and motivated me to eat more," Thulung said. "He was my reminder and gave me company while I ate."
Thulung explained that if she didn't have Chere, she thinks she would spend her whole day in bed. Chere's feeding schedule has helped Thulung create a routine for herself and the cat's early morning wake-up calls for breakfast helps her get up and start the day.
Both Collie and Thulung expressed having a pet by their side while they do online school or snuggling with their animal while taking a nap has improved their moods and left them feeling less lonely.
"He makes everything better because he's adorable, he's sweet, he's fun and he's happy," Collie said about Momo. "He's just pure happy and that brings a lot of happiness to my face, into my life and to my roommates. It's a much more positive environment because of his six pounds of existence."