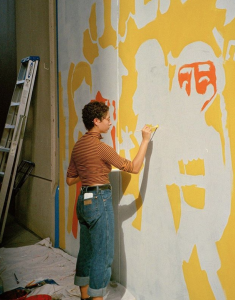 "If I can't paint and I can't get my hands on a paintbrush, I am getting my hands on a pen or a napkin or whatever I can find–even dirt on the ground," said 20-year-old Macy Rajacich a junior majoring in fine arts at Hunter College. Her recent mural "Take It Easy" at Atlantic Terminal is part of The Museum of Contemporary African Diasporan Arts series of 20 works it commissioned to honor it's 20 year anniversary. This opportunity puts her in the ranks of other artists, including Wangechi Mutu and Jamal Shabazz who were given a platform by MoCADA. 
The mural, created by three MoCADA employees including Rajacich, reminds pedestrians to slow down and take a breath. Their message brings awareness to self-motivation and positive attributions. Some of the messages included were "Keep on going," "You got this" and "Just take a breath." The large mural presents a colorful scene of a happy community surrounded by nature and music. 
It took a lot of trial and error when presenting their mural ideas. "Developing the concept was much harder than the drawing and painting of the mural," said Rajacich. She worked with Nikki Freyermuth and Audrey Lyall, all three women of color for over a month designing the mural and then another five days painting it. "It went so smoothly, one of the other artists does figurative drawing, so we both drew figures down and then sent to the other artist who is a graphic designer," said Rajacich. "Take It Easy" deviates in style from her other artwork. "I had an online painting series called "Calling U Out" that had cartoon illustrations like in the mural, me and the other artists combined our figure drawing to create the ones on the mural," said Rajacich.
Rajacich started painting as a way to express herself but now it is much more than that. "It's a lot of pressure to paint, it's no longer a hobby. It's not arts and crafts anymore I am building myself as an artist," said Rajacich She makes an effort to be in her art studio at Hunter at least twice a week. "It makes me let off a lot of steam," said Rajacich. 
Her creative process is always changing, being in a space where she can produce and come up with ideas is her main focus. Her sketchbook goes everywhere she goes. "When something happens I have to write it out, my sketchbook is mostly filled with writing instead of sketching," said Rajacich.  Staying motivated is one of her struggles as a young artist. "There are days I don't want to paint or do anything and just stay in bed but I know that I have to grab a pen. I have to create in order to feed what's inside if I don't do that I lose that fire," said Rajacich. "Just like everything else in life, if you don't practice you are just never going to get better."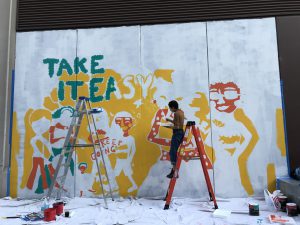 The art director at MoCADA,  Ami Andrieux asked Rajacich to join the mural. Andrieux gave the three artists the challenge of fusing all their artistic styles together into one.  She wanted to give the project to young artists. "In general MOCADA has a legacy of giving emerging artists a platform, we call them MOCADA first's many of whom are now major like Wangechi Mutu who is currently at the MET and Jamal Shabazz, everyone's favorite photographer especially with the Gucci campaign," said Andriex. Rajacich has used her time to prepare for opportunities like these, she attends galleries, networks with other artists and is always creating whether that means in her studio or outside. 
One of Rajacich art teachers, Professor Williamson who taught her Advanced Painting class stresses the importance of studio time and practice. "Working on your craft is the most important, everything Macy has achieved is because she has done an incredible job with the work she had presented she is a very hard worker," said Williamson. 
Rajacich is grateful that she gets her own art studio at school because of her painting class. "My artistic style is putting myself in a space where I can crank out something is how I get started," said Rajacich. Painting is always on her mind either that be for her painting classes, her fellowship or a creative project. 
Ironically enough, Rajacich has been able to follow her murals advice now that she has finished the piece. Her busy schedule consists of balancing her school, work, art and social life. Rajacich is a full-time student taking five courses and works part-time at the MoCADA. Rajacich has also heavily emerged herself into Hunter activities. She is a part of the Office of Arts and was also offered an art fellowship offered by her major. 
Being at Hunter full time was tough during this process. "I'm a student so I was coming in and out, I had to be there at 10 a.m. and then leave by dark, we were there all day," said Rajacich. "It was a lot of work, time management was important," said Rajacich.  Always creating and building her skill, Rajacich has recently taught herself embroidery and is writing a cookbook. 
Currently, Rajacich is focused on her painting and has started an underground tailoring business. Having her art publicly displayed has been very monumental. "I remember when I was in high school I had my first showcase to the public at a cafe. I remember being so proud of myself and the recent mural was really surreal for me, to have my art be put up permanently," said Rajacich.