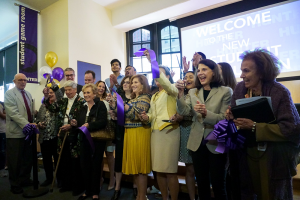 The air was thick with friendly competition on the evening of Tuesday, Sept. 24 during the opening of the state-of-the-art student union in Thomas Hunter. Students jostled left and right, amped up and laser-focused, during an inaugural game of ping pong in Hunter's new game room.
After five years of planning and one year of construction, the student union located on the second floor of the Thomas Hunter building is open. It includes a game room, offices, a computer lab, a conference room and event/lounge spaces accessible to Hunter students from 6 a.m. to 9 p.m. every day.
The $1 million bill for the game room was shared equally by the Undergraduate Student Government and the Hunter College Foundation. The rest of the $3 million renovations was paid for by CUNY, New York City Council and the Hunter College Foundation.
The game room offers widescreen gaming stations, foosball and ping pong tables, TV sets, and board games. Games include classics like Connect 4 and Monopoly but also millennial card games like Cards Against Humanity. To check out games or paddles, students must leave two ID's.
"I enjoy the positivity and the carefree energy in the game room. We are able to play board games and listen to music and decompress from the tensions of class and work on campus," says junior Sumer Doleh.
Inspiration for the game room comes from the Brookdale Campus. Starting next semester, the game room will be open for club reservations through the Student Resource Center.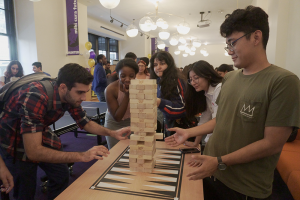 With over 16,000 undergrads and 6,000 grads enrolled as of fall 2019, junior Fiona Wei says "Hunter is really crowded and it's hard to find somewhere to sit." Due to only seven open floors of the library, "I see students sitting on the floor because it can get impossible to spend time on campus," says Wei.
However, USG President Kamalpreet Kaur explains that they've "constantly heard from students about how they need more space. The student union is exactly that," she says. "Each new space provides a variety of ways for students to spend their time on campus, meet new people, sit and study, or hang out."
The new offices accommodate the Undergraduate Student Government, Office of Student Activities, College Association and student publications such as Cult Magazine and Olive Tree Review. Kaur says the location is convenient for students and clubs who have easier access to resources. The new offices have separate rooms for meetings, new desktops and more space to lodge the representatives and staff.
Past USG administrations have pushed for new office spaces for four years because the old offices were cramped, lodging both USG and C.A. They contributed funds from student activity fees for the project and work. USG President Kaur, a senior majoring in Community Health recalls being a freshman ambassador. For the last three years in those run-down North building offices, "I never thought it would happen while I'm still a student," she says.
Student leaders worked thoroughly with the project committee on details such as picking out furniture and contributing to final decisions over the years. This space was created to make the commuter college more welcoming and offer space for students to spend more time on campus. "I hope this new space will provide students with memories that will last forever," said Kaur.
The Thomas Hunter building was built in 1914 as an English Gothic style high school and is the oldest building on the Upper East Side campus. The second-floor renovation was designed by renowned architect, Calvert Wright who also designed the renovated $39 million Hunter library.
The modernization of the second floor can possibly lead to other floor renovations at Thomas Hunter, hinted President Jennifer Raab. "We now have prototypes for great club rooms where more clubs can be accommodated," she said at the ribbon-cutting ceremony.
During construction, the connection between the third floor of the North building to Thomas Hunter's second floor was closed off affecting the way students get around. A year later, the same entrance has a staircase lounge area and is wheelchair accessible. However, they are still working on creating a bathroom for the floor.