Mini empanadas and red cups in hand, students cheered each other on during the first open mic night of the semester. Hosted by Where Hunter College Speaks, "the radio station gives Hunter students a platform. A space to make mistakes, be accepted and celebrated," said singer Turna Zimmerman.  
The open mic night on October 17 exceeded the expectation of the director of events, sophomore Marc Roy. "Our goal was to keep performances going till 9:30 p.m. I didn't expect it to run until 10 p.m. and still have volunteers wanting to perform," said Roy.
What was once a weekly event known as the Coffee House shifted to a monthly schedule as a result of a drop in the performer and audience turnout rates. "We realized people stopped drinking coffee because it is a late event," said Roy. As a result, Coffee House was renamed to open mic night during the fall 2019 semester.
Fairy lights illuminated the Thomas Hunter room 115 where students sat closely on the couches, chairs and rug to make room for each other in the tight space. The cramped crowd was supportive throughout the three-hour event, encouraging performers throughout the random pauses, stutters and restarts by being patient and reassuring them with kind comments.
Performances included singing, rapping, playing instruments, showcasing beats and collaboration pieces by Hunter students. The audience heard a majority of original songs and a few covers from low-key artists including The Frights and popular artists such as Frank Ocean. Through each song, the audience consistently applauded.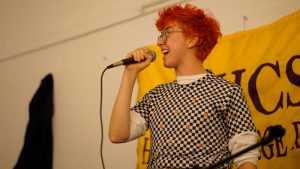 Performers ranged from well-known WHCS members, such as Kate Bird, to new performers such as Gibson Chuang. "When I saw this event, I knew I needed the experience to perform in front of a real audience," said singer Chuang.
Readings included poetry, short stories and spoken-word pieces where snaps and claps filled the room. Tyrese Spruill headed to the stage with white sunglasses on and shocked and entertained the entire room with his spoken-word piece about relationships. Some written stories were based on the performer's life whereas others ventured in fiction story-telling. 
A lively performance by Bird, who also hosts "Bloody Oath" on the radio station sang three original songs with her blue electric guitar called "F.K.N. Rose," "Angels (Bestfriends)" and fan-favorite "Man, Go." As Bird sang her last song, "Man, Go" but pronounced mango which is about two exes running into each other at a supermarket, the audience began to sing along to the lyrics which echoed in the room, "man, go away from me."  
Bird, a sociology major transferred from Australia and moved to New York City hoping to find a community where she can connect with others through her passion for music. "Artists come to WHCS to find their people, to collaborate, inspire and connect with one another. I love being around passionate and bustling energy. It is a hardworking space with a welcoming and talented community where I've made a lot of connections and friends," she says. 
Since arriving in the states, Bird performs at open mics and artist showcases all over the city in bars, cafes and theatres. In February of 2019, Bird performed "Man, Go" at her first WHCS open mic night which became a favored song by the community. Since then, she has attended every event to test new original songs in front of a crowd. "When I'm not confident in a song, but the audience believes in it, it makes me believe in it," says Bird. Writing original songs comes naturally she says, "I have to write, it is my healing process. It is my version of self-care."
"It's an important event for both the people who want to share their works in progress and those who just want to sing," said Roy. 
As the clock hit 10 p.m., MC Roy opened the stage up to anyone. Producer Malchi Johnson, took this opportunity to showcase his beat he completed hours before. His energetic and impromptu performance to his original beat ended the night on a high-note leaving everyone to connect and complement one another afterward.
The next open mic is November 21 and students can sign up through social media or at WHCS' office.