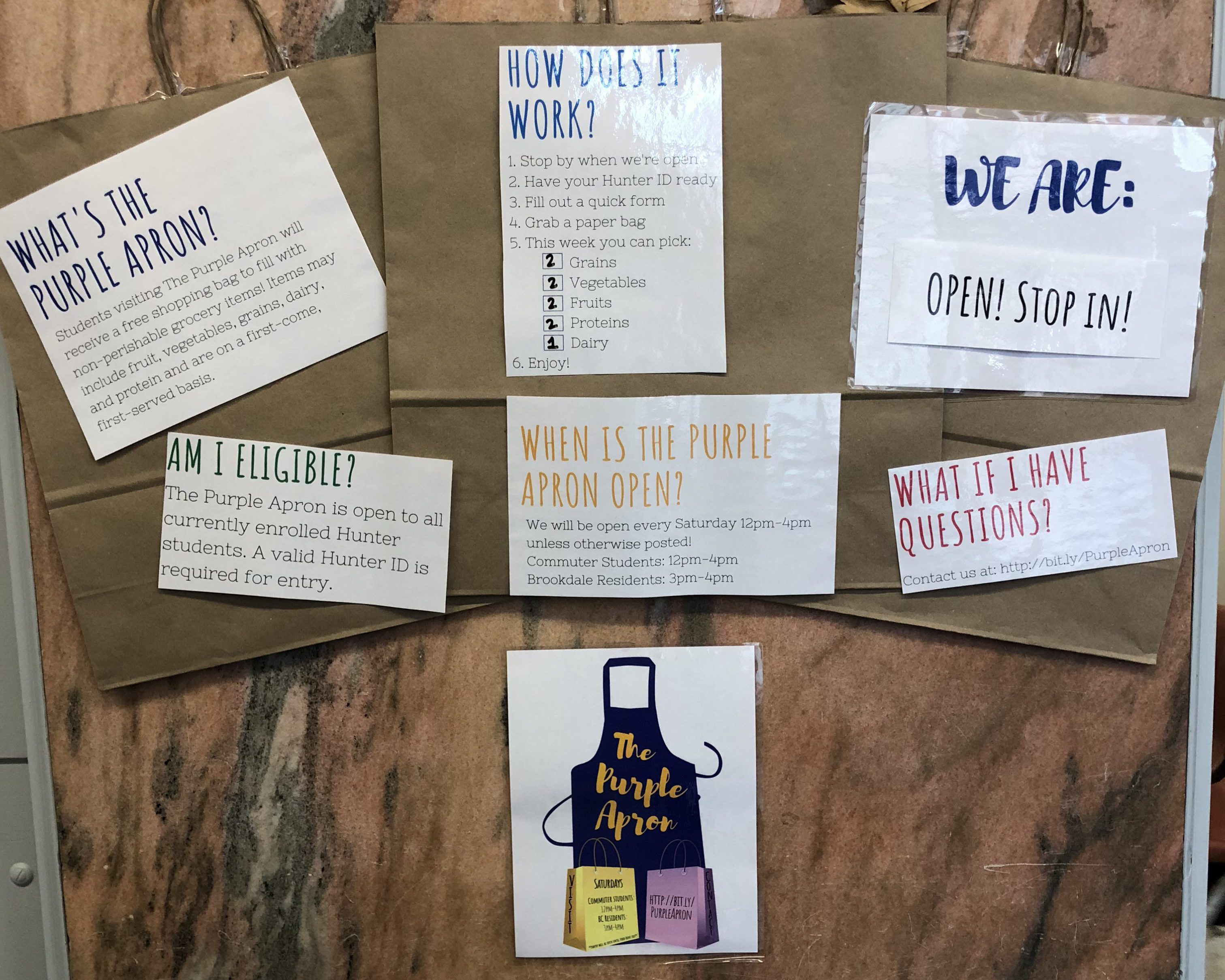 A food pantry called The Purple Apron is offering free groceries to Hunter students for the rest of the school year.
Every Saturday until summer 2019, the pantry, located at the Brookdale Campus at 425 E. 25th St., will be giving away a shopping bag worth of food items, including grains, canned fruits and vegetables, dairy and protein. On a typical week the pantry, which opened at the started at the month, serves almost 100 students.
"We know that nutritious food is a key ingredient to student success, health and happiness – that's why Hunter has long offered emergency food assistance to students," said a college spokesperson. "Thanks to a generous grant, this new initiative – organized out of the Dean of Students office – will build on those efforts."
According to Students Affairs manager Chris Aviles, The Purple Apron is a new addition to a list of services Hunter provides for students in need. Under the program of Emergency Funding, the food pantry is an effort to properly support students during a time where food insecurity is becoming a growing concern in college campuses.
"I think it's really great, especially since we're college students and it can be hard to eat healthy," said Rachel Philip, a freshman. "I think it's a really nice service that they're offering, and not just to Brookdale students but to the entire Hunter community."
In a study conducted between March and May 2016 by the College and University Food Bank Alliance and several other organizations that address student hunger, "48 percent of respondents reported food insecurity in the previous 30 days, including 22 percent with very low levels of food security that qualify them as hungry."
"I feel like it'll help a lot," said Matthew Carbonell, a senior. "I feel like there should be a way that you could tell if you're low income or not and maybe get a bigger cut of the share."
The Purple Apron is located in an inconspicuous room on the first floor of Brookdale. When you enter the room, you are asked for your ID and given a large brown paper bag. A student is allowed to take two items from each food group – protein, vegetable, fruit, grains — and one item from the dairy section. Recent offerings included milk, beans and pasta.
"It was good, it was quick, they were nice," said Jonah Sanpedro, a junior. "I would say it was an open and inviting space."
"As an academic institution we have to be conscious of all the different aspects that our students need in order for them to excel academically and be able to do those exams, do well in their classes and hopefully graduate and move on to better things," said Aviles.
Antony Simos, a freshman, collected his share and was prepared to cook in the campus' shared kitchen.
"It helps out, for time, instead of having to go to the supermarket. If I need pasta then it's right there," Simos said. "For healthy foods also, I got some vegetables, so that's filling. We're student-athletes also so it really helps out."