Stuck at Hunter during a long gap between your classes and feeling hungry? Lucky for you, the Upper East Side is home to more delicious, surprisingly affordable eateries than you think. Many of the options are easily accessible to Hunter College students by just a short walk away from campus. From iced lattes to crispy spring rolls, support local eateries and treat yourself to some yummy treats. Looking for a place to start? Five Hunter students share their favorite food spots near campus and their go-to orders!
Terry and Yaki- 159 E 68th St, New York, NY 10065, between 3rd and Lexington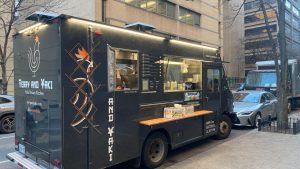 Terry and Yaki consistently holds its spot as one of the most beloved food spots near Hunter's main campus. The food truck describes itself as a "Halal Asian Kitchen" and specializes in preparing freshly made teriyaki bowls. Whether you're in the mood for a classic chicken teriyaki bowl or something meatless, like their vegan tofu or spicy eggplant bowls, you will indeed find something that will fulfill your cravings. Getting your bowl during peak hours might take a little longer, but the wait is worth it.
Blank Street Coffee- 1284 3rd Ave, New York, NY 10021 between 71st and 72nd street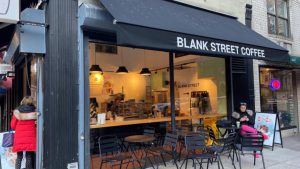 Blank Street Coffee is a top-notch coffee shop that should be on every Hunter student's list of places to visit. They source their coffee from sustainable and ethical suppliers and roast their beans on-site to ensure maximum freshness and flavor. If coffee is not your thing, you also have the option to purchase matcha and hot chocolate. Blank Street Coffee also serves a variety of delicious pastries, breakfast items, and sandwiches. Whether you're in the mood for a sweet treat or a savory snack, they've got you covered.
Two Wheels- 1382 2nd Ave, New York, NY 10021 between 71st and 72nd street (15% discount with Hunter Student ID and mentioning Hunter VSA)
Just a six minute walk from Hunter, you could be feasting on crispy spring rolls and a tasty bowl of pho. Two Wheels offers Vietnamese cuisine in an aesthetically pleasing setting filled with flourishing plants and friendly staff that greet you with a warm smile. Two Wheels stands out from other Vietnamese restaurants with its parmesan truffle fries that pair well with its Thai iced tea and selection of fruit smoothies. Last year, Two Wheels partnered with the Vietnamese Student Association (VSA) at Hunter to provide all its students with a discount.
 Hunter Delicatessen- 966 Lexington Ave # 1, New York, NY 10021 between 70th and 71st street (10% discount with Hunter Student ID)\
If you're looking for a delicious and affordable meal option on the Upper East Side, Hunter Delicatessen is the place to go. This local spot offers a variety of freshly made sandwiches, salads, and hot dishes that are perfect for a quick lunch or dinner on the go. Not only is the food scrumptious and filling, but the staff is friendly and accommodating, which makes it a great place to grab a bite with friends. Hunter Delicatessen is definitely worth a visit before, after, or in between classes.
Gong Cha x Poke-  925 Lexington Ave, New York, NY 10065 between 68th and 69th street (10% discount with Hunter Student ID)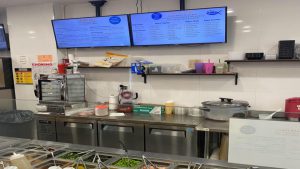 Last, but certainly not least, there's a high chance someone you know has gotten their bubble tea fix at the local Gong Cha across the street from Hunter. But did you know that they also sell poke bowls where you can order off the menu or create your own? With a variety of fresh protein and toppings, Gong Cha offers healthy options at a more affordable cost compared to other locations offering poke bowls on the Upper East Side. Pro Tip: If you order a poke bowl, you get priority when paying and don't have to wait in the usually long line for bubble tea.