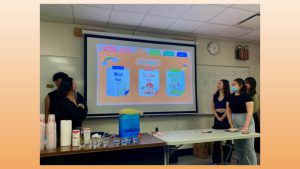 The Vietnamese Student Association (VSA) at Hunter College hosted a "Sip & DIY Nite" for students on Friday night.
The "Sip & DIY Nite" brought together students from various backgrounds and gave them the opportunity to unleash their creativity while enjoying some refreshing iced tea with lychee syrup.
"We like to host these events to foster a sense of community," said junior San-San Lewis, an Urban Studies and Public Health major and president of Hunter VSA. "We are a very open cultural club; you don't need to be Vietnamese to join us."
As students arrived, they were greeted by friendly Hunter VSA members, who checked their names off the RSVP list and led them to tables with paint, brushes, and mini canvases.
The event was held in room North C002 on campus, and the Hunter VSA members worked hard to set up the space, ensuring it was welcoming and comfortable for everyone who attended. They even accommodated all guests on their waitlist by setting up extra tables and chairs and ensuring they had enough supplies.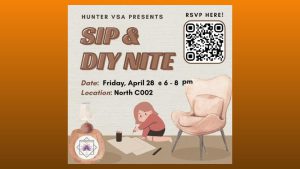 Before the event officially began, students partook in an Easter egg scavenger hunt to find candy and tickets that could be used to enter a giveaway and potentially win a gift bag with items containing a Squishmallow, Brita water bottle, Touchland hand sanitizer, and much more. 
There was also time dedicated to learning Vietnamese vocab, led by Hunter VSA Secretary Ngan Phan. All participants followed along as Phan recited the words "Rain," "DIY," and "Spring" in Vietnamese. 
"These events are for people to come and have fun, chill in the middle of the semester, make new friends and get out there, and learn about Vietnamese culture," said junior Joanna Zheng, an English major and event coordinator for Hunter VSA. "There is more to Vietnamese culture than Pho." 
The overall atmosphere was lively and energetic, with students chatting and laughing as music filled the room. Some students chose to paint tote bags and t-shirts, while others created unique and personalized bracelets.
At the end of the night, everyone gathered around to take group photos. The Hunter VSA members then announced that they would be holding another event in the near future, which was met with enthusiastic applause and cheers from the students. 
Junior Jackie Moglia said she was excited to attend the event and utilize her artistic ability by painting a tote bag with her friends. 
"This week has been really stressful for me, so it was nice to go to VSA's event and see all of the hard work they put in to make sure everyone would have fun," said Moglia. 
The "Sip & DIY Nite" hosted by Hunter VSA was not only a fun and creative event but also a great way for students to learn about Vietnamese culture and connect with others. It provided a space for students to express themselves through art and make new friends.
Hunter VSA has also hosted a variety of other events throughout the school year, like a "Carnival Night," "Lunar New Year Festival," "Winter Wonderland," "ACE Giving," and "Fright Fest," to name a few. 
Events like this are essential for building community and fostering inclusivity, especially in commuter schools. By hosting events that celebrate culture and interests, student-organized clubs like Hunter VSA can help create a more vibrant and diverse campus environment.