On a chilly cloudy afternoon of Jan. 31, a small crowd gathered outside Kaye Playhouse of Hunter College. Students are holding placards to voice against systemic racism in wake of Tyre Nichols' death. Chants of "Remember Tyre Nichols, smash racist terror" reverberate through East 68th Street and Lexington Avenue. For members of CUNY Internationalist Club — organizers of the demonstration — it is just another day of work, like it is for many student clubs at Hunter vouching for meaningful causes around campus.
"I don't think it's enough, but I think it's a start, a good first step towards change," says Melvin Lopez, a City College junior while sharing his overall impression of the protest.
Hunter is home to more than 100 student clubs and organizations, each offering a wide range of interests under regulations set by the Office of Student Activities.
"The Office of Student Activities is committed to achieving a pluralistic community and to assisting the student body in developing rational, critical and creative capabilities," says Teneia Wooten, an assistant director at the Office of Student Activities.
But for some clubs, social gatherings are more than just finding a common interest. For years, and even decades in some cases, these clubs have kept the spirit of student activism alive at the crown jewel of the CUNY system, and continue to do so.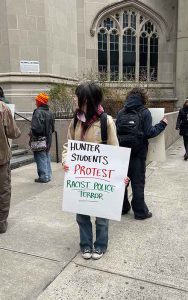 CUNY Internationalist Club
For the CUNY Internationalist Club, which often finds itself encouraging students to speak against all forms of social injustices, protesting against systemic racism is a means to a far larger end of launching a "revolution" inspired by a socialist way of life.
"Our revolution will bring us towards a society where everyone has not only everything they need materially, but a life they want for themselves and their loved ones." said club president Kaitlan Russell during the club's first chapter meeting of semester. Her remarks on the club's goals come as a response to some of the most contentious issues; police brutality, rights of minorities, transgender communities and undocumented immigrants, and liberties of working-class people.
The origins of the Internationalist Club can be traced back to fall of 2001. When the CUNY administration raised out-of-state tuition fees for undocumented students, the founders of the club came to the rescue. Protests and demonstrations hosted by club members successfully coaxed the administration to roll back the financial policy which could have deprived thousands of higher education.
When it comes to spreading its word, the club embraces a traditional approach. With no social media presence, club members can always be seen on the third floor of West Building, either distributing flyers or informing students of upcoming events. In addition, the club also runs "The Revolution" and "The Internationalist" newspapers that publish editorials broadly reflecting the club's values and ideals.
New York Public Interest Research Group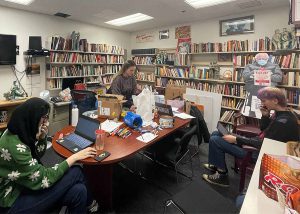 Ever since earning a bachelor's degree in public affairs, Ayesha Schmitt, a Baruch College graduate, has shown determination to address social issues that matter to the people of New York. Her resolve came to fruition when she joined one of the state's largest non-profit organizations, the New York Public Interest Research Group (NYPIRG) at Hunter College.
In what can be considered a leeway for students to demonstrate leadership skills, NYPIRG is entirely led by college students. The non-profit has three elected board members from Hunter College who yield the power to vote on a variety of campaign-building issues. Officials often manage to voice their concerns to city and state administration, even if it requires them to call offices of Gov. Kathy Hochul, Assembly Speaker Carl Heastie, or State Senate Majority Leader Andrea Stewart-Cousins. For instance, Hunter's NYPIRG chapter plans to visit Albany on Feb. 28 with a consortium of students and faculty members to demand higher funding for CUNY and SUNY schools.
"We work on higher education funding, climate change, fixing the MTA, public health, and other consumer justice campaigns," says Schmitt, a program coordinator for NYPIRG at Hunter.
Despite having a statewide outreach, the Hunter chapter of NYPIRG never fails to commit to causes pivotal for students on campus. According to Schmit, her organization regularly cosponsors events with other student groups on campus. For instance, the organization co-hosted Earth Week last April with the Seeds Club and Sustainability Council.
While it may seem like NYPIRG has a progressive front, the organization refrains from leaning toward any political ideology. "I've had students who identify as communists. I've had students who identify as Republicans," reflects Schmitt on the organization's indiscriminate approach toward student engagement. "In the end, we are working on issues like higher education funding or climate justice. It doesn't matter what your political ideology is as long as you're respectful."
The Greenbelt Society
In the seventies, deforestation, environmental degradation, and food insecurity plagued the daily lives of rural women in Kenya. Responding to the urgency, social activist Wangari Maathai laid the cornerstone for The Green Belt Movement – a step towards advocating for a sustainable ecological infrastructure. Five decades later, the movement's ideals find themselves rejuvenating at Hunter's Greenbelt Society.
A newly chartered club, Greenbelt strives to demonstrate Maathai's vision on local scale by proliferating environmental restoration efforts through civic engagement. Following their founding last fall, the club has frequently took on cleaning up shorelines and planting trees as part of Park Department' Stewardship Program, which provides volunteers an opportunity to participate in restoration efforts.
"One action that you as a Hunter Student can take, as family and friends of those students, you can do something now for the environment around you," says club president Fadwa Yousef, reflecting on values of civic involvement her club intends to promote.
But for Yousef and other founding members of the Greenbelt Society planting trees around campus is not enough to the greater cause of restoring flora and fauna in urban communities of New York City.
Making students academically conscious about interdependency between ecological systems and underrepresented communities is also equally weighed upon. Last November, the club invited Emmy Award-winning director Robert Lundahl. His film "Unconquering the Last Frontier" — a piece reflecting on the Lower Klalam Tribe's struggle to survive amid development of hydropower project at Washington state's Elwha River — was played, followed by a Q&A session with the director himself.
Future is anything but ambitious for the Greenbelt Society as they plan to collaborate with a wider Hunter community this semester. According to Yousef, plans with Seeds Club, another ecological club, and college's Sustainability Council are underway.
"So for this semester, we are going to be having an open house event in March. And this is sort of an introduction to our club," adds Yousef on what lies ahead for the conservationist group.
The task of introducing a change to the communities they serve does not yield to fruition at no cost for these groups. From limited funding to a lack of popularity, each student body is prone to challenges.
"You know, there are some challenges they all face one way or another. It's either financial or, you know, the struggle of getting recognized on campus. Some do not have space," says Schmitt, who is familiar with common struggles members of the Hunter community face.
Regardless of all the odds, the unwavering commitments of these student-led groups stand still as they seek to foster values of unity and collaboration among students and faculty in addressing the pressing issues of both today and tomorrow.
"We believe it is important that students are aware and engaged in the current social and political climate," adds Ms. Wooten, reflecting her office's support to clubs and organizations at Hunter.