With the USA having one of the worldwide, Hunter's Roosevelt Public Policy Institute invited four formerly incarcerated individuals to share their experiences and advocate for a more equitable parole process to students earlier this week. 
Moderating the session, Hunter College's Director of the Public Policy Program Dr. Basil A. Smikle introduced students to Josè Saldaña, Vanessa Santiago, Roslyn Smith, and Anthony Dixon, all of whom used their transition from prison to everyday life as motivations for their non-profits.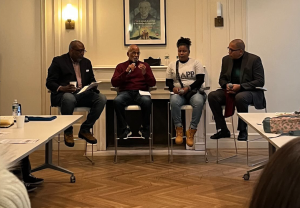 While their experiences differed, their sentiments on the parole system are identical: instead of being used to reward good behavior, it is used as a form of "perpetual punishment." Incarcerated individuals can submit a request for a hearing for the parole board to re-evaluate their sentence every two years. In Josè Saldaña's case, his request for parole was denied nine times, meaning he served an additional 18 years. 
 "I can't change the nature of my crimes, I can only change myself," Vanessa Santiago said in retort to the aggressive parole denial culture upheld by the Federal Government. Just like Saldaña, her request for parole had been denied three times, adding six years to her sentence. 
Combining these additional years served with the lack of support within prisons, Anthony Dixon notes that incarcerated individuals never get the chance to leave the transitionary phase of leaving prison. "There is no past tense to this," Dixon said, "There is no "ed" to any of these adjustments." As Director of the Parole Preparation Project, Dixon works to provide professional resources and support to newly freed prisoners. To Dixon, these services helped him get back up onto his feet; they are the reason he got his first job three days after being released. 
Beyond career resources, Santiago emphasized the difference furniture and housing could have on recently freed prisoners. Having to choose between furniture or rent, sleeping on the floor made her feel as though she was back in prison, where at least she had a cot. In response, Santiago founded the Gift It Away, Inc. program, where donated furniture is given to formerly incarcerated individuals in need. 
However, resources shouldn't only be available to prisoners after being released. For Roslyn Smith, getting her Bachelor's degree gave her the tools she always needed. "College changed my life. It made me see my purpose in an entirely different way. I finally had hope," Smith shared with students. Prior to receiving her degree, a hopeless Smith was adamant to rebel, due to former President Bill Clinton's 1994 Crime Bill. This bill has stonewalled prison and parole reform ever since its inception. 
The hopelessness induced by the aggressive parole hearing process leaves many older adults convinced they will die in prison. "At a certain point, I began preparing to die in prison at a young age," said Saldaña. Director of the Release Aging People in Prison (RAPP), Saldaña credits his success in rehabilitation to his older mentors and is one of the biggest advocates for New York State to release prisoners at 55 years old or after having served 15 years. 
COVID-19 introduced issues that only worsened these circumstances. All four speakers shared how the pandemic allowed for quarantining to be used as a punishment, both in terms of solitary confinement and denying prisoners from adequate social distancing and masks. 
Dixon, Saldaña, Smith, and Santiago concluded by urging students to join them and RAPP on April 17th in Albany for Parole Justice Advocacy Day."There's power in numbers, only together can we make a change," said Santiago.
Interested students can contact RAPP here.