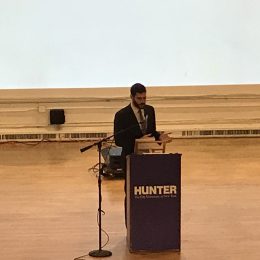 In an emotional homecoming, State Assemblyman Alex Bores celebrated his inauguration with 350 friends, neighbors, and politicians earlier this month in Hunter North's Assembly Hall.
Born and raised in Yorkville, the Hunter College High School alum was sworn in to represent District 73, comprising parts of Midtown East and the Upper East Side. The first Democrat in New York State entering office with a computer science degree, the freshman legislator hopes to use his technical expertise to increase efficiency in Albany.
Welcoming Bores back to 69th Street, outgoing Hunter College President Jennifer Raab said that at only 32, the assemblyman embodies the school's motto: Mihi Cura Futuri – the Care of the Future Is Mine.
After presiding over his 2009 high school graduation on the very stage he stood on Sunday night, Raab congratulated Bores, telling him, "You live that motto by your dedication to public service, and we as your community are so fortunate to have you in this leadership role."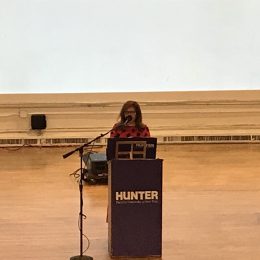 Among a parade of elected officials to speak was former longtime New York Rep. Carolyn Maloney, now a faculty member at Hunter's Roosevelt House Public Policy Institute.
"He won this seat the old-fashioned way; he earned it," she said of Bores' shoe-leather campaign.
Amid musical interludes from Talent Unlimited High School singers, and remarks from various New York leaders, Bores' home-grown politics emerged as a theme. Manhattan Borough President Mark Levine called him "a true son of the Upper East Side," while Manhattan Councilman Keith Powers assured him that "the people in this room are going to support you when it's time to do the hard stuff."
After Senate Majority Leader Chuck Schumer (D-NY) said there's "no better person" to lead District 73, Bores spoke.
Addressing his father — a union leader — in the second row, Bores said with a smile, "The best education I ever received was on the picket line with you."
Vowing to tackle public safety, affordable housing, and immigration, among other issues, Bores reminded the audience that small actions, like his successful campaign to put the Roosevelt Island tram on Google Maps, can have outsize impacts. "We need a government that gets big things done," he said, "but also gets the little things right."
Bores ended by reminding everyone of the work still to come. He related that in 1944, Frank Sinatra stood where he stood, performing his famous "New York, New York," belting out, "If I can make it there, I'll make it anywhere." Seventy-nine years later, Bores said, "But with all due respect to Mr. Sinatra," it isn't that easy for everyone today.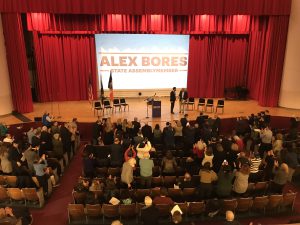 "This should be a city that everyone can make it in." As the audience cheered, he added, "And with your help, it will be."
In the lobby after her son received a standing ovation, Lori Bores recounted pounding the pavement throughout the campaign to make sure Alex was elected. She told The Athenian she was "over the moon" to see him succeed.
In an interview after the event, Bores said he felt "elated," and "inspired" by those that showed up for him. "I'm ready to run through walls to actually get things done."