Featured image courtesy of @ratsofbrookdale via Instagram.
They're in the bushes. They're in the lobby under vending machines. In the kitchens, under ovens, on stovetops and in cupboards. The worst ones live inside dorm rooms. Finding a mouse in Brookdale isn't hard, but catching one seems to be the problem.
Last spring, as a freshman living in the dorms, Lucas Ayala took matters into his own hands. After one of his neighbors saw a mouse in their community kitchen, Ayala laid down glue traps that he bought. The next day, he found a mouse stuck to the trap, so he alerted the resident advisor. Her response: "Leave it there." 
That same night Ayala and the rest of his floor received an email from their RA, telling them not to put down their own traps because exterminators won't check them. The message, according to a copy that was shared with The Athenian, instructed residents to "immediately" remove any traps that have been put in communal spaces and asked them to fill out a work order when they have problems instead. "They are usually very fast about putting them in," the email stated.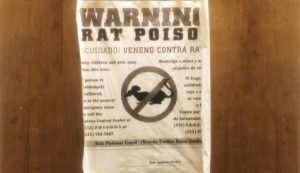 But this isn't the case according to Ayala. Now a sophomore living in the dorms, he previously put in a work order for "really moldy" shower curtains but says the process takes too long. "I was like 'This is ridiculous I might as well do this myself.'" He bought a new curtain to hang there, which he says was replaced quickly after by Brookdale. 
Spotting mice in the kitchen is one thing, but inside rooms is another. Harrison Glassman, a junior, noticed what appeared to be rat droppings on his bed one day. He says his twin brother, who also dorms at Brookdale, has seen multiple rats crawling in his room, "three or four times." 
According to Glassman, an exterminator came a few months ago to patch up students' rooms and to set traps in the kitchen. 
But glue traps only do so much. Early in the semester Glassman and his neighbors noticed a mouse stuck on a trap "squealing in pain for hours." They decided to take it out of its misery by slamming with a kitchen pan.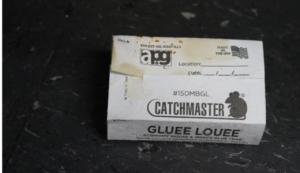 Despite everyone's best efforts, the rodent issue is still as rampant according to Peter Manos, a sophomore. The environmental studies major sees a mouse once every two weeks. He recalls signs in the kitchen about the exterminator coming. "But obviously, it never worked because there were continually more and more mice," he said.
As the issue persists, students take their own precautions. Glassman's brother uses picture frames to seal up the gap underneath his door to make sure mice don't squeeze in from the outside. "I don't know if that's been working or not," says the Italian major, but he hasn't seen one in his room since.  
The residence life commissioner of the Undergraduate Student Government, Elizabeth Bianco says she doesn't know of any details regarding the rodents. "It's an issue that needs to be addressed," she said and offered that she is in communication with administrators at the Office of Student Affairs about the problem. 
The Office of Student Affairs did not respond to requests for comment, and neither did the Office of Communications.
The word on Hunter's rodent issue is getting around as students notice mice present outside of Brookdale. Two weeks ago, PIX 11 published a "Crumbling CUNY" story that pointed to weak infrastructure around the campus and students who often see mice in areas like the 6th-floor library. 
But at the dorms, there are other problems besides just the rodents. Students reference constantly non-functioning elevators, heaters that turn on when it's already too hot, moldy bathroom ceilings/walls, and heavily trafficked kitchens. Bianco hasn't responded to The Athenian's request for more information.
A spokesperson from Residence Life at Hunter said that the rodent issue is not something they can address. "Unless it's general housing things, we can't really directly speak about anything that's not found on our website," they said.
Though the living situation is getting better as the dorm allows visitors again, it's not enough for Ayala. "It's starting to improve a little bit, but I don't know if Brookdale will ever be a nice place to live." Ayala plans to move out of the dorms and into an apartment next year.