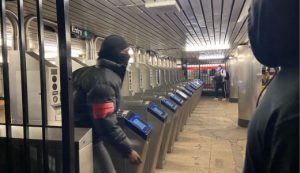 Last week, Feda Hammood was on the N train heading to her home in Brooklyn after class at Hunter. Upon reaching Herald Square Station, a disheveled man got up from his seat, pulled down his pants, squatted in front of her, and defecated on the train floor.
"I didn't look at him. I was scared," said the biology major. "If I didn't look away I was gonna be traumatized for life." Hammood fled the train car too quickly to be indecently exposed. But per her mother's advice, she's been carrying around a pocket-sized can of pepper spray since starting her freshman year, for moments like these when she feels threatened.
Hammood wasn't physically hurt, but some riders are. According to the crime report of a January MTA committee meeting, major felonies were up by 63% during December 2021. In it, the NYPD reports that last year, 200 people were hit by a train — 30 of them pushed.
One of these victims was Michelle Go, a 40-year-old Asian American woman pushed to her death in Times Square. Go's death and countless other attacks on the MTA have led many students at Hunter to be hyper-vigilant and take extra precautions to ensure their safety.
"I've been staying behind the train columns," says Rachel Layvey, an urban studies major. "I also make sure there's at least another woman by me. That's a thing for me. I'm like, 'Where are the women at?' and I would stay by them." Hammood, who hates taking the N train now, and Layvey both agree it's a good idea to leave train carts only containing male riders.
Tasnia Akhter feels she's now desensitized to male harassment. "We all get catcalled, don't we?" The freshman admits she's unsure what to do to feel safe while riding the MTA. "I just walk away but I've heard sometimes if you ignore them, they'll chase you. Or like, that girl who was stabbed a few days ago."
She's referring to the night of Feb. 10 in Washington Heights when a man stabbed a 19-year-old woman in the arm. The incident occurred on the No. 1 train after she didn't respond to his question asking for the time. "She ignored him and got stabbed," Akhter said, "I heard that you should start barking at them. I wanna try it. They just think you're crazy and walk away."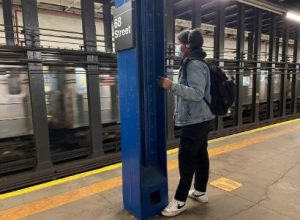 One male student feels just as threatened when taking the train. Alexander Colotl, a computer science major, says he typically angles his foot against the pillars to protect himself from a shove to the tracks. "I just always make sure I'm aware of my surroundings, and that I don't have my headphones to keep me distracted. I just feel bad for other people who can't defend themselves because they're [small]."
The MTA recently announced a plan to test platform screen doors in three stations: the No. 7 line in Times Square, the L line at the Third Avenue station, and the E line platform at the Sutphin Boulevard-Archer Avenue in Queens by the year 2024.
The subway violence rampant in NYC is occurring during an increased wave of Asian-American hate crimes. In the same January MTA committee meeting, the NYPD reported that Asian-American hate crimes rose by 220% in the last year.
Lizzie Chen, a 17-year-old high school student, referenced these statistics when talking about her commute. "I just don't feel that safe anymore taking the subway," she says."I stay far away from the tracks. I would stay where the wall is and avoid big crowds," on the platform.
Chen, a Chinese-American high school student, attends class at Hunter once a week by train for a College Now course. She recalls having a friend whose father got punched in the face, and another friend who got called "ching-chong" while riding the train.
But students like urban studies major, Layvey, admit they're unsure why Hunter hasn't spoken up about student safety on the MTA. "We literally have our own station!" she says, "Someone [here] should say, 'Hey, we see that you guys may feel unsafe. Here are some practicals.'"
This seemed to be a common theme amongst at least six students interviewed — why hasn't Hunter addressed the influx of crime? Eija Ayravainen, Vice President for Student Affairs and Dean of Students said in an email that "Hunter College is a city commuter school and we have always encouraged our students and staff to be aware of their surroundings and follow the advice of the MTA and the NYPD." No resources or safety tips were provided when asked.
In an email, the MTA said it doesn't "provide comment for school publications."
But some students are willing to take matters into their own hands. When a reporter mentioned carrying a taser, both Akhter and Chen requested more information. The Home Security Superstore offers $14 stun guns, sometimes selling "college safety bundles" for students.