Reminding students of their responsibility to choose a leader who will "take us from lockdown back to life, from pandemic to prosperity," Hunter College President Jennifer Raab kicked off Tuesday evening's panel featuring candidates for Manhattan Borough President answering questions from Hunter students.
The virtual event hosted by the Roosevelt House Public Policy Institute featured all six announced democractic candidates primarying for the party's borough president nomination.
Lindsey Boylan, Elizabeth Caputo, Ben Kallos, Mark Levine, and Kimberly Watkins were joined by a late-arriving Brad Hoylman, who was working on the past-due state budget in Albany, to field questions from Hunter college students on the issues most important to them.
Boylan's opening statement immediately proved relevant to students' questions as she cited the borough's desperate need for a "bold, progressive" leader with a focus on creating a "more equitable, livable, and sustainable [city] for all New Yorkers."
Hunter senior Harrison Cade led off questioning, asking how candidates will "work toward creating more equitable and compassionate government" while "restoring confidence in elected leaders among Latino and all communities of color."
Giving residents of color a voice in local decision making was the most important step, claimed Caputo while touting her experience as "the only person on this call who chaired a community board," as being integral in assisting underserved residents of Manhattan.
"We cannot ignore this anymore," Levine said, continuing that the borough president must address inequality on "every front," citing housing, healthcare, employment and education as needing drastic reforms for communities of color.
Each candidate pledged to address the racial inequalities and disparities at the forefront of Hunter students' minds, but the fact that all six candidates are white was not acknowledged by any member of the panel. Moderator and journalist at The City Rachel Holliday Smith did not press the candidates on the issue.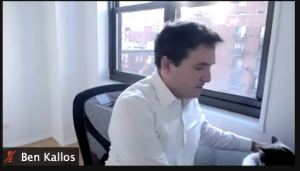 While scratching the chin of his cat Pandora, Kallos, one of nine New York City Council members who voted "no," on New York City's budget, stated that assisting communities of color requires "acknowledging the systems of racism," that exist today. His vote was a direct response to his view that the NYPD is over-funded at the expense of other civil services.
Appearing in a living room with an unbothered dog on her couch, Watkins expressed her candidacy, "was born out of my extreme frustrations" with the public school system. Serving her third term as president of the Community Education Council Watkins spoke on the importance of public education throughout the night.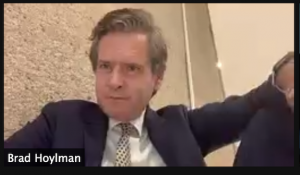 State Senator Hoylman's governing experience was on display in real-time as he joined the call seated on the floor in the "far reaches of the Albany capital complex," following negotiations on the State's delayed budget, passed later that evening.
Hoylman's case for receiving the nomination was undermined by a poor internet connection and bad sound, leading to the least amount of substantive policy information for students.
In focusing on policing and its impact on racial equity candidates Kallos and Boylan clearly stated their support of the "defund the police," movement while Watkins was overt in her support of the police.
Watkins expressed skepticism in reducing the size of the police force while stating it is "not necessarily safe to go out on the street," or "safe to ride the subway right now."
The highly contested primary will continue until June 22, but the importance of reaching students was not lost on candidate Levine.
Levine said that he, "couldn't be more excited," to have students involved and engaged with local politics. "We need you now, we need your voice. We need your energy, your leadership."