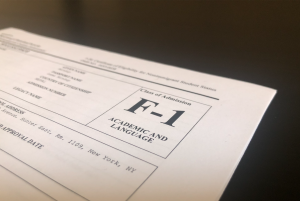 On top of transitioning to online learning and uncertainty about internships, international students with F-1 visas face challenges with status, travel options, health insurance and financial situation.
Shortly after Governor Andrew Cuomo cancelled all in-person classes, International Student Affairs offices throughout CUNY sent emails to students ensuring their F-1 status. An email wrote, "Due to current events with the coronavirus, the U.S. government is well-aware of the situation and the rules that apply to F-1/J-1 students–your status will not be in jeopardy."
Traditionally, F-1 students cannot take more than one online class and have to remain full-time to maintain their status, according to the Student and Exchange Visitor Program (SEVP). However, given the current COVID-19 pandemic, SEVP announced they are disregarding the previous rules: students can take as many online courses as they need while maintaining the full-time status.
CUNY students come from at least 50 different countries, with nearly 1,200 alone at Hunter College. And, now that students with F-1 visas are allowed to take online classes, they are debating whether to stay in the U.S. or go back home.
"My friend is planning to leave the United States," said Yumiko Maruyama, an international student majoring in accounting at Hunter. She added that her friend has to self-quarantine after arriving to her homeland, Japan.
"Since classes are online and I don't have to be physically here, I am thinking of going back home this semester," said Sanisha Lama, a student from Nepal majoring in environmental science at Hunter College. "But I am afraid I won't be able to come back."
Many other F-1 students have a similar situation. Some said their parents are calling them back to their home country for their safety, and some said they wanted to remain in the U.S. since the situation back home is critical. However, almost everyone is worried about the rapid changes in situations and circumstances which can also prevent them from re-entering the U.S. if it goes under lockdown in the near future.
As of now, there is no restriction on students who want to return to their homeland and continue their classes virtually with exception to these countries: China, Iran and the Schengen Area of Europe. Students who wish to do so must inform their international office in advance and follow the travel guideline provided by the CUNY.
Hunter College didn't respond to interview requests for this story.
Another concern for international students is their insurance coverage. Oriana Rivera, a student from Venezuela said she has health insurance from UnitedHealthCare, but she is not sure if her health insurance will cover her in case of COVID-19.
While financial insecurity is an issue for all workers, those that get paid under-the-table, face additional risks. "I'm worried about rent and other stuff because I don't have work for the next few months. I work off the books–I don't know how I'll keep going to school in the future if I don't have housing." said the student who wants to maintain anonymity to avoid facing consequences as F-1 students are not allowed to work outside of school.
"It's been hard–I feel very anxious and sad," said Rivera.