A DACA recipient and proud Latina, Maria Luisa Imbachi won this year's student award for her work on immigration and climate issues. Her work for Hunter College's newspaper, The Athenian, exemplified what the Aronson Awards for Social Justice honor.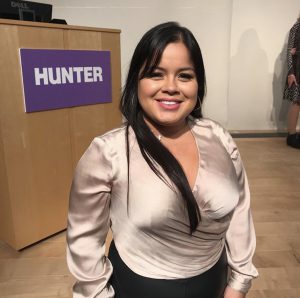 Originally from Colombia, Imbachi immigrated to the United States when she was a child. She grew up in East Elmhurst, Queens and is now currently a senior at Hunter College majoring in journalism. With graduation in sight, Imbachi is excited about the future. "I am going to keep being an advocate for immigrants and sustainability, where I land I don't know but as long as I get to report on these issues, I will be happy," said Imbachi. 
The yearly Aronson Awards celebrate journalists who have written about social justice in the United States. Only one award is given out to a Hunter undergraduate and comes with a $250 award. It is administered by Hunter College Department of Film & Media Studies and the judging committee consists of journalists, professors, and media critics. Professor Sissel Mccarthy has served on the committee for four years now and has seen the impact of Imbachi's work. "She really helped give a voice to the voiceless, which is one of the things we always try to do as journalists, she was able to raise awareness right here on campus on why climate change actually matters to the Hunter community," said Mccarthy.  
Imbachi's acceptance speech focused on her experiences with being a young immigrant in America. She quoted Michelle Obama: "The world as it is just won't do." She spoke about the struggles she has gone through being a DACA student and how much her education means to her. "I believe education should be a free and safe place for all those who wish to have a strong foundation," she said to the lively crowd in the Silberman School of Social Work auditorium. She thanked her media and journalism professors, family and the Dream.US scholarship that has helped her attend Hunter College. Imbachi wants to inspire DACA students to "achieve their dreams and give back to their communities." 
Imbachi's recognized work was created in her Neighborhood News that is offered by Hunter College every semester. The newsroom-like class is where students can gain experience by being staff writers for The Athenian. Imbachi learned about the course when its professor at the time, Pam Frederick, pitched it in one of her journalism classes. "I was like that sounds too good to be true, so I said why not give it a try, so I started finding issues that I thought were important to me and to other students," said Imbachi.  Some of Imbachi's favorite stories that she has written were the ones about Dreamers because she herself is one. Neighborhood News gave her a platform to write about her most important passions, "I think this class was one of the classes I learned the most about journalism," she said. 
The Aronson Awards, presented nine awards last night. The biggest award went to Puerto Rico's Center of Investigative Journalism for their work uncovering government issues in their country. Imbachi was honored to be one of them. Her outstanding work speaks for itself, "I had the freedom to write about the things that mattered to me," said Imbachi. 
This is the 29th year of the awards, honoring late professor Peter Parisi.