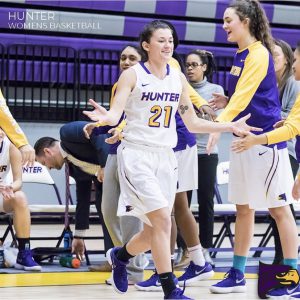 The final game of the Hunter Hawks women's basketball regular season on Feb. 11 was also senior night for five players who are graduating, and they were honored with flowers and a framed jersey prior to the game. The five seniors are Ashley Arias, Jade Aponte, Christine Patterson, Selina Lim and Marlena Budna.
While she is excited to graduate, Patterson, who was one of the team's top scorers of the game with 14 points, says she will "definitely miss her team and kicking butt on the court." But the season is not over yet.The first place Hawks won the CUNY championship and are headed to the NCAA tournament for their first game against Bowdoin on March 7.
A player whose presence will also be missed on the team next season is Selina Lim. Over the course of three seasons, Lim has a total of 415 points and currently has well over 100 points in her final season.
"In games I am a good communicator, so I get super loud and I help people figure out what's going on whether they're on the court or off the court. I just stay positive and try to get everybody to play well and play together," Lim explains.
However, while the loss of these five seniors on the team will be tough, Nicole Ballin, a sophomore on the Hawks, has confidence in the team going forward.
"Even with the loss of these girls we can still do good next year and I hope to have more of a leadership and starting role for the team," Ballin said. "I love playing on the Hunter court, there's no other court that's the same. There's always a whole bunch of Hunter fans that show up to home games and are here to support."
For a full recap of the game courtesy of Hunter athletics, check out https://www.huntercollegeathletics.com/news/2019/2/12/womens-basketball-defeats-ccny-on-senior-night.aspx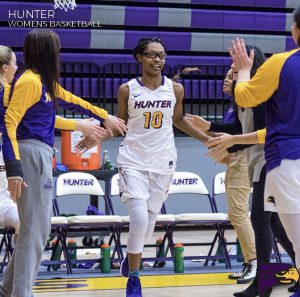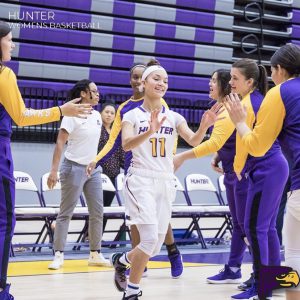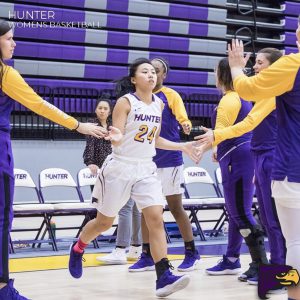 hawkshuddle from Brittney Barnett on Vimeo.