As states around the country enact laws targeting trans people's health care, athletic participation, and even freedom, trans Hunter students are feeling the pressure. While some students are shocked by the blatant transphobia shown by lawmakers, others are not surprised. Regardless, many are scared.
Pamela Rozon, a junior who is genderfluid and uses 'she' and 'they' pronouns, says that while there have been some positive laws regarding trans people, the recent legislation is "One step forward, 10 steps back."
Currently, 51 anti-trans bills have been passed around the country since the new year, and many more are working their way through legislative pipelines. Notably, North Dakota banned transgender girls and women from competing on female sports teams from grade school through college; Missouri has implemented arbitrary requirements for patients receiving gender affirming medical care; and Tennessee has redefined drag as appealing to "a prurient interest," thereby banning it anywhere a child could be present.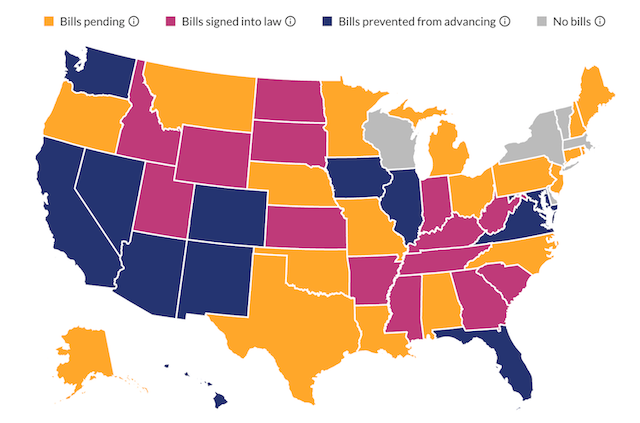 Though many of these laws are being legally challenged, and Tennessee's drag-ban has been temporarily blocked, trans people nationwide are feeling targeted.
Emmet Schweers, a trans senior at Hunter, tells The Athenian, "I feel extremely ostracized and scared." He says in the last two semesters, he has been accosted by strangers and called "faggot" — a slur for gay men — at least 15 times. After coming out to his friends and family as trans nine months ago, Schweers has felt the weight of transphobia even more heavily than before.
Schweers says it was the March mass shooting at The Covenant School, a Christian private school near Nashville, Tennessee that woke him up to the deep hatred the Republican Party has for trans people. In the aftermath of the tragedy — which killed three 9-year-olds and three faculty members — the fact that the shooter was a trans man became a flashpoint for right-wing commentators.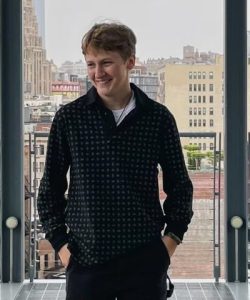 Schweers describes going down an alt-right rabbit-hole on Twitter, reading tweets calling trans people "corrupt, broken" even "not real." Though he previously believed the Republican obsession with eliminating trans health care and sports participation was simple homophobia, the English major now realizes "how angry the far right is with the trans community and how aggressive they're willing to get about it."
Contrastingly, Rozon tells The Athenian that while the increasing legislative attacks on trans rights are a human rights disaster, they are not surprised. "It's always been harder for LGBT folks in the U.S. to have decent human rights," they say, adding, "It sucks, but it's America."
Rozon believes that these laws, many drafted by straight, cisgender, white men, might not proliferate as they have if there were more trans lawmakers. "If you have no one representing you in government, things like this are going to happen."
Founded in 2017 as part of Hunter's Silberman School of Social Work, the Silberman Center for Sexuality and Gender endeavours to expand such representation in academia. "We do research, education and advocacy based around sex positive and gender affirming social work," says SJ Dodd, the center's founding director.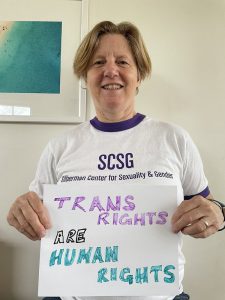 The human sexuality professor believes that the capacity building the center does — educating professors to express their support of trans students by respecting pronouns and eliminating some of the gender binaries in curricula — helps students feel more welcome at school.
Both Schweers and Rozon agree that a lack of education on trans lived experience prevented them from finding their identities and coming out sooner.
Schweers says he "spent most of my own childhood and young-adulthood not coming out for the safety of my family," and that he still worries his mother may receive backlash for having a trans son.
"Only recently did I put my identity first," Schweers explains, saying he believes education on trans issues is paramount to fighting the recent legislation.
Rozon thinks "It's weird that people aren't educated on trans people," adding that because they were not taught about transness in childhood, it took them longer to fully realize their genderfluid identity. They are adamant that "If more people were educated, they'd be more sure of their own gender."
As for steps Hunter can take to accept and support its trans students, Rozon says at least one gender studies class should be mandatory as part of the Pluralism & Diversity requirement for graduation. "It's called Diversity for a reason," Rozon argues, saying that making this education part of Hunter's curriculum could make students feel more welcome on campus, and more comfortable exploring their gender.
Schweers thinks having menstrual products available in all restrooms would also go a long way to normalizing trans experiences.
While he appreciates Hunter's accepting atmosphere, he feels there is not enough explicit messaging supporting trans people. He says of the liberal administration, "They want to allow you space to be yourself so they just don't say anything at all." Schweers is concerned this silence may swing back around into intolerance.
Dodd understands that they, as a professor, are not an expert in the student experience. The only way to know what's needed, they say, is to "Get the students together and ask them."
Rozon believes, above all, that trans people and their experiences must be treated with dignity. Even in the face of differing opinions, they say, "You don't have to accept me, you just gotta respect me."