Nico Curtis came to Hunter College last semester to pursue a degree in environmental studies. For the Brooklyn resident, affordability topped the list of factors of consideration for college selection. But this perception could change next semester when tuition hikes for City University of New York and State University of New York students, introduced by Gov. Kathy Hochul back in January, come into effect.
"I guess it is kind of an injustice to those who see CUNY as a tuition-friendly institution," says Curtis, expressing his disappointment after hearing about the governor's decision.
Gov. Hochul announced the hikes during her State of the State address on Jan 10. The step would foresee a 3% tuition increase for CUNY and SUNY students. In-state CUNY students currently pay $6,930 annually in tuition fees, whereas out-of-state residents have to pay $18,600 a year in tuition.
For many incoming students like Curtis, who saw CUNY institutions such as Hunter College as a beacon of hope for affordable and high-quality education, the hikes came unanticipated. "I am shocked at how things can really change around in a matter of a month," says Curtis.
Speaking on behalf of current Undergraduate Student Government administration, Freshman Senator Bethany Kim calls the hikes a "concerning" issue. "Hunter students come from a diverse background, diverse economic background, so the idea of affordability part of Hunter is what it stands for and what we believe in as students," says Kim, who believes that state and CUNY officials should have consulted with student representatives to provide clarity on the need of tuition hikes at this time.
Meanwhile, officials have continued to assure students of bringing a resolve through cooperation. "We look forward to engaging with our funding partners in the state and the city during budget season. We are also continuing to build on private-public partnerships that together with tuition revenue are paramount to keeping CUNY strong," said CUNY spokesman, Joseph Tirella.
The governor's address pinpoints a long-term outlook of CUNY institutions in face of rising costs as a leading push factor for the latest hikes. At the same time, it also weighed on prioritizing student needs and upholding a commitment to "maintain low-cost and stable tuition rates for in-state students," a claim that student and faculty groups have disputed at Hunter.
"Overall, I think yes, there is largely a justification as to why there are tuition hikes; due to a drop in enrollment, and colleges are getting less money," says Ayesha Schmitt, a program coordinator at New York Public Interest Research Group at Hunter. "If anything, inflation is more of a reason as to why they should not be charging students who are already struggling."
The hikes also follow a pricing pattern that starkly reflects the current state of the economy and the trail repercussions it is leaving. According to a College Board report on trends in college pricing for the ongoing academic year, sticker prices for full-time students in public colleges are on average $10,950, a 1.8% increase from last year's before adjusting to inflation.
But the suddenness of hikes have left many first-year students anxious, and unprepared with class scheduling as registration dates for next semester are approaching. "If nothing is done by next semester, I will have no choice but to cut down on a class or two," says Ariadna Lopez, a chemistry student at Hunter.
Enrollment rates across CUNY schools have surged to 14,433 this academic year after undergoing rapid post-pandemic dropdowns. CUNY officials largely attribute the success to CUNY Reconnect, a program launched at the beginning of Fall 2022 to counter falling rates of admissions.
But Kim argues that upcoming tuition hikes can further affect enrollment rates for the next academic year, and overwhelm Hunter's freshman community specifically, which often finds itself at the mercy of financial aid and lack additional financial support. "I think it's gonna impact freshman students especially because they are coming into college expecting this affordability, and first, they are hit with this tuition hike," says Kim.
While economic reality makes Hunter one of the many public colleges to burden students with tuition fees, some like state Senator Andrew Gounardes believe the problem dates back to years. "These [CUNY] institutions were underfunded even before inflationary pressures existed. So, there's just a massive need to get more money into these colleges," adds the Brooklyn senator.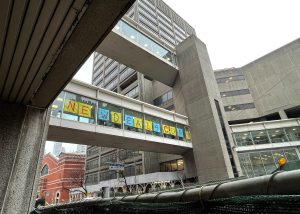 A Hunter alumni, Sen. Gounardes is well known to the Hunter community as a proponent for a tuition-free CUNY. If passed, the New Deal For CUNY bill would eliminate tuition costs at CUNY and SUNY schools. In addition, it also pledges funds to hire additional faculty and mental health counselors, and address fragile conditions of infrastructure at CUNY.
In the meantime, Hunter freshmen continue to live in a state of uncertainty, unaware of what their upcoming tuition bill may look like.
"I really hope someone out there does something about it, because to begin with, Hunter is full of problems already," says Curtis.