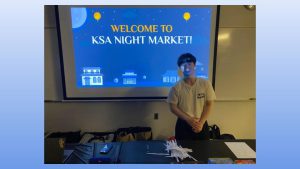 The Korean Student Association (KSA) is a student-led organization at Hunter that strives to foster and celebrate Korean culture on campus. On Friday night, KSA hosted a "Night Market at Hunter" event that showcased Korean food, music, and games. 
KSA events are a way for students to learn about Korean culture and connect with other students who share an interest in the country and its customs. These events also provide a sense of community for students looking to meet new people and help to break down barriers while promoting cultural understanding among students of different backgrounds.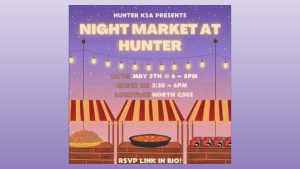 "KSA means a lot to me because it was very hard to find a place that was much more related to my culture, and we brought this club back to Hunter after seven years," said Jenny Choi, a graduate student studying nutrition and dietetics and co-president of Hunter KSA. "Our power move as a club is diversity; it doesn't matter if you're Korean to be part of our club and e-board, and I really appreciate everyone who comes to our events."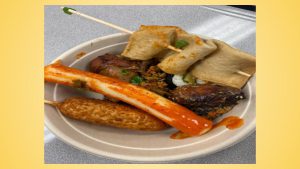 KSA's night market is its most recent event and coincides with Asian American and Pacific Islander Heritage Month. It was held on campus in room North C002 and featured a variety of Korean dishes such as kimbap, tteokbokki (spicy rice cakes), chicken wings, kimchi fried rice, fish cakes, and Korean corn dogs. Students who attended the event were able to enjoy these dishes and even got to bring the leftover food home. When asked where the food was purchased, Choi said Hunter KSA has a partnership with Koba (918 3rd Ave), a Korean restaurant that serves fast but traditional dishes. They're located on 55th and 3rd and will give all students a 15% discount when you show your Hunter ID.
"I worked closely with the co-presidents to plan this event and had the idea of having a food stall theme because Korea is especially known for its street food," said senior Michael Kim, a computer science major and event coordinator/historian for Hunter KSA. "If you ever go to South Korea, you should definitely visit the Busan Night Market because all of the food is delicious."
In addition to the food, the festival also featured five different games. As the night commenced, students were split into different groups and got to know each other as they worked together. One game was based purely on luck and had everyone cheering on as six cards were placed face down on a table, shuffled after each round and had either one, two, three, four, five, or six written on them. The objective was to accurately match each card's order with the number. Attendees also played the baby picture game, where they were presented with baby photos of current KSA e-board members and had to guess who each photo shows correctly. 
The members of KSA worked tirelessly to ensure that everything ran smoothly. They were responsible for coordinating with Koba to order the food, setting up the event space, and promoting the event through social media. The hard work paid off, as the night market was a huge success and drew students from all over campus.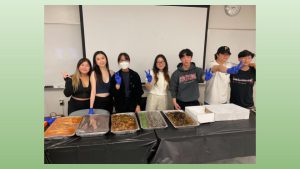 "I wanted to create a place and community where a lot of people can come from different backgrounds regardless if they know Korean culture or if they're Korean themselves," said senior Joseph Min, a Biology major, and co-president of Hunter KSA. "KSA is a place of community and a safe spot for everyone."
As the night came to an end, it was announced that there would be a giveaway. Each attendee was assigned a number based on the order you signed up for the event, and a random wheel spinner determined three lucky winners (including myself) that ended up winning sweet treats from Japan.
If you are a student interested in immersing yourself in Korean culture or simply looking for a fun and unique way to spend time with others on campus, check out the next KSA event, and keep up with them @huntercollegeksa on Instagram!