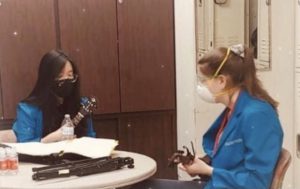 Imagine "Sister Act" but with healthcare students. In an unlikely union of two disciplines, music and healthcare, Hunter College pre-health students channel their artistic talents to give back to their communities. 
Senior and biology major, Dana Infante, co-founded Music is Medicine with her friends back in the spring 2020 semester. The organization provides a unique opportunity for Hunter students to put on musical performances for hospitalized patients with the hopes to alleviate stress and combat clinical conditions.
"I am passionate about mental health, psychiatry, and neuroscience," said Infante. "Mental health is important because it reflects our overall well-being and quality of life.'
Infante has two passions: music, from being a longtime pianist and clarinet player, and healthcare. She started her career in healthcare as a volunteer for Mount Sinai hospital's Delirium Intervention program. A program designed to give patients mental stress alleviation from their medical hardships. As a volunteer Infante witnessed the stress of patients who underwent medical procedures, and as a college student she witnessed fellow peers similarly experienced stress related to school work. This inspired her to form her organization which alleviates stress for both students and patients alike. Using her two passions she formed Music is Medicine. 
"I have seen the impact of mental health difficulties on others, and I have had my own challenges with mental health," said Infante.
Many students involved in the organization are science and pre-health majors, they frequently collaborate with theater and music majors as well. Music is Medicine has relationships with several local hospitals including New York Presbyterian-Weill Cornell, Mount Sinai, and Lenox Hill where students comfort patients with musical performances. 
In Infante's words, "Music can bring a sense of peace, which can make life easier." 
Infante's passion for mental health advocacy encourages her work as a future healthcare professional. She says it is important for students to advocate and bring about change against systems that do not work. She believes current systems such as brain research, drug development programs, and mental health facilities could be changed through advocacy. 
"Advocacy can promote equality of access to psychiatric treatment for individuals of diverse socioeconomic backgrounds…it can bring awareness to dysfunction and catalyze reform,"  said Infante.
While Music is Medicine performs music for patients, another student organization works to create new music with patients. The Hunter chapter of Hear Your Song, or HYS for short, is a national nonprofit organization with the goal to empower health afflicted youths to make their voices heard through the art of songwriting. 
HYS is a collaborative effort. Student volunteers partake in songwriting sessions with youth participants. They give challenged youths the opportunity to express whatever topic and themes they want through lyrics. Students can support them by lending their talents in regards to composing, instrumentation, musical style, and even performing. 
Seniors Dilara Portelli and Maree Sats co-founded the Hunter chapter of HYS back in the spring semester of 2021. Both students advocate for adequate healthcare equality for all. 
"I stand for adequate healthcare for all in the United States regardless of socioeconomic status. As both a premed and a sociology student, social determinants of health are something that I have been exposed to in a variety of contexts whether it was within Hear Your Song, my general studies or my experiences volunteering at clinics and hospitals" said Portelli president of HYS.
Portelli, who double majors in human biology and sociology, is the daughter of immigrants. Growing up, she acted as a translator between her mother and doctors, this inspired her to pursue a career in healthcare. While pursuing her pre-health degree, she volunteered at hospitals that exposed her to a diverse array of patients. Their stories and experiences showed her the flaws of the current healthcare system. As a senior, this will be her last semester as president but she hopes to continue her work with HYS even after graduation. 
"I hope to continue to work with Hear Your Song just as a general volunteer as I will no longer be a chapter leader alongside working full time as a research associate in a lab during my gap year as I prepare to apply for medical school" said Portelli.
Sats, vice president of HYS, is a double major in biology and physiological psychology. Shewas inspired to start HYS after she took a medical sociology class. According to Sats, the class gave her a new perspective on how the US medical healthcare system lacked equality and affordability.  
"I stand for the cause of health care equality because it is important to acknowledge that socioeconomic status shouldn't define a human necessity of healthcare. Healthcare in our society is treated as more of a luxury and with this treatment comes the framework of the quality of care that is given and received by those who need it," said Sats.
The values of HYS using the power of voice to overcome problems resonates with Sats when it comes to students as advocates. Sats, who is also a musician, believes music provides an 'intangible' method of healing. 
"Music can teach people how to create their own voice, express it, and be able to embrace situations that are difficult to handle but with comfort and support we can find the strength for it," said Sats.
There are currently over 70 members participating in HYS; primarily biology, psychology, and music majors. There are also general volunteers who are non-students that can participate. The organization has chapters at other universities such as Yale University. 
Like Music is Medicine, HYS has partnerships with local hospitals like Montefiore Medical Center in the Bronx. However they work more closely with the pediatric division of hospitals. HYS also partners with summer camps, most recently the Double H Ranch Camp in upstate New York. 
This spring, both organizations plan to host many events throughout the semester. The first open event for HYS was a musical game night which occurred on February 9th. The first open event for Music is Medicine will be a talent show on March 16th.